T T Buckingham Reserve
The replacement of the playground equipment at TT Buckingham Reserve is expected to start in October 2020.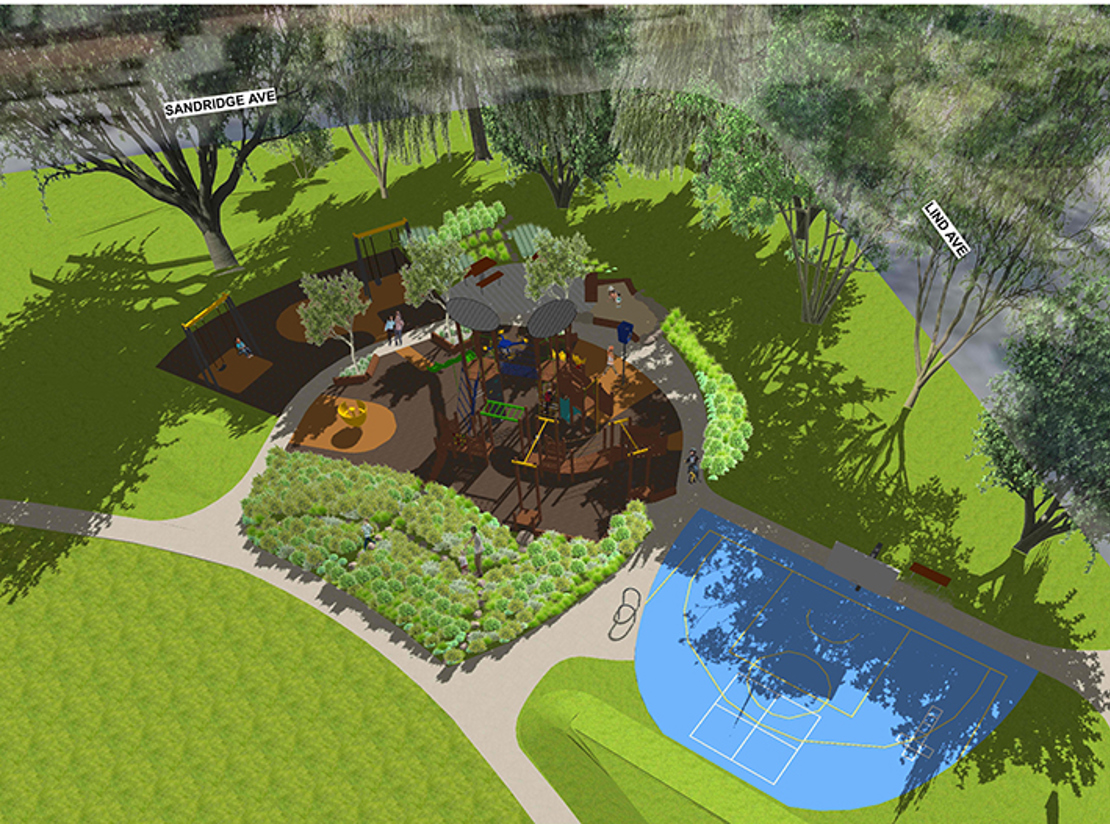 Location
Garden City, Port Melbourne
Cost
Milestones
Idea gathering

27 May 2019

Consultation with community on how they use the park and ideas on how to improve it

Concept design

2 Sep 2019

Further community consultation on the concept plan design.

Final concept plan and detailed design

3 Aug 2020

Preparing for construction

Construction commencing (approximate date)

5 Oct 2020

Construction is anticipated to begin in October
Why are we doing this?
TT Buckingham Reserve is an important local park in Garden City Port Melbourne. The park is used extensively by the local community for informal recreation activities including basketball, cricket, play, walking and a place to meet.
The replacement of the existing playground is a high priority in Council's Play Space Strategy 2012. The 2019-20 independent playground asset and condition audit also identified the need to replace the playground. The playground is over 25 years old and no longer complies with Australian Standards.
So it must be replaced.
The impact
Key features of the final design include:
half court basketball with noise reducing backboard, seating, four square and hopscotch line marking
new play structure with a variety of play equipment such as slides, climbing nets, bridges, monkey bars, track glide, balance pommels, small climbing wall, tunnels, interactive panels, low ball basket hoop and cubby play under decks
sand play area with accessible raised table, rock and log edging
senior and junior swing frame with basket and toddler seat
rocker and spinner
picnic area, seating benches and informal seating logs and large stone
drinking fountain
new garden beds with shrubs and ground cover planting and new tree planting
irrigation to oval, grass mounds and new garden bed areas
path connection to Sandridge Ave
half court basketball court.
Objectives
In May and June 2019 we asked the community how they used the park and ideas on how to improve it.
They key themes for improvement identified in the community engagement were:
Increase the diversity of the playground equipment to better cater to a range of abilities and ages.
Maintain a social function in the space for the local community and improve sitting and gathering opportunities.
Improve existing basketball court facilities.
Provide additional recreational sport opportunities including junior footy posts.
Improve landscaping and tree planting.
After this engagement and reviewing community feedback a concept plan was developed and presented to the community for feedback in September 2019.
Overall the concept plan was received positively.
Key feedback received for the concept plan included:
Basketball court to be relocated closer to its original position.
Reduce the amount of concrete paths / entry points.
Existing entry point on Enterprise Ave to be retained.
Maintain / improve trees and landscape.
For more information about the community engagement process, visit the TT Buckingham page on our Have Your Say website.
Construction and updates
Construction is hoped to start in October 2020 and be completed before Christmas.
We will continue to update this page with any information as construction progresses. For more information about the upgrade please contact the Open Space Team.
Email: openspace@portphillip.vic.gov.au 
Phone: 03 9209 6777