Reimagine - Activation Design Competition
We're awarding up to $50,000 each to six designers, artists or creatives to design, build and program projects in public spaces.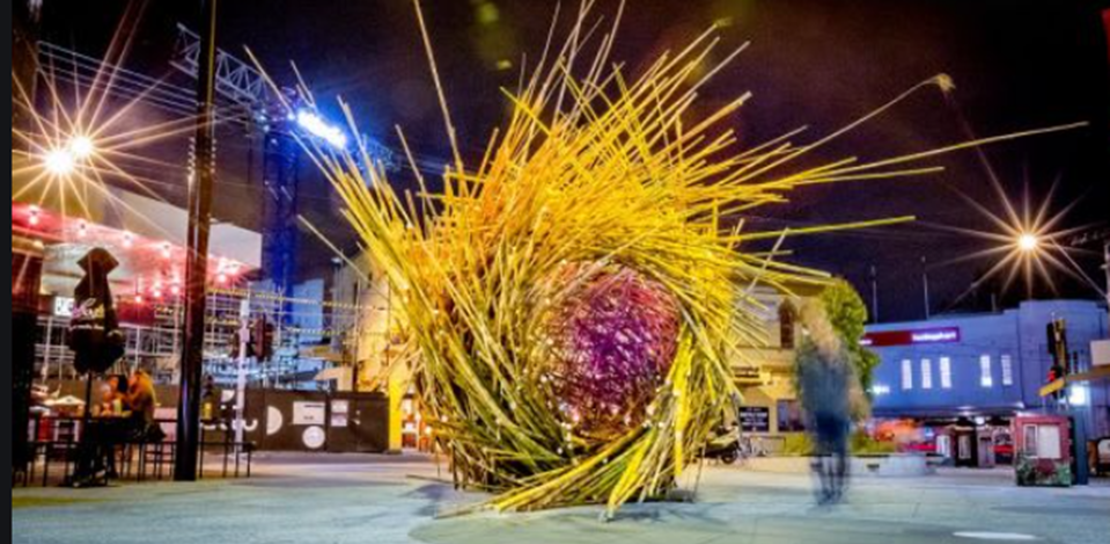 Location
Installations will be located at six spots throughout the city. Locations are flexible and Council is open to all locations within the public realm.
Cost
The competition has a budget of $300,000, covering $50,000 for each of the six projects.
Why are we doing this?
The City of Port Phillip Activation Design Competition is an initiative to explore and recontextualise use of the City's public spaces. Its purpose is to improve the look and feel of existing public space through projects that increase / engage pedestrian foot traffic and increase economic activity in our neighbourhoods.
The impact
As we begin to open up after lockdown, we are inviting talented designers, artists and creatives to re-imagine our public spaces to reflect the vibrancy and creativity of our City's residents. This will give a boost to our local economy by increasing foot traffic in local areas.
Objectives
These installations will provide an opportunity for local designers and artists to make creative use of public space to that inspires a sense of place and provokes interest among residents and visitors in our City.
Reimagine competition winners chosen
After careful deliberation, we have selected six winners for the Reimagine competition. We received some fantastic applications and while it was not easy to choose winner, we based our decision on how well they fit the brief and how we anticipate they will provoke interest, ignite conversation, engage pedestrian foot traffic and stimulate economic activity in our neighbourhoods. 
Meet our six winners
Ying-Lan Dann
Ying-Lan Dann presents Drift. Inflatable ocean buoys are arranged into groups of 10 to 20 and will be distributed in two to three large public spaces. The integrated eyelet is threaded with marine grade cordage / cable to create a constellation of visually striking and thought provoking public seating. The spherical forms allow users to roll over, rest and interact with the buoys.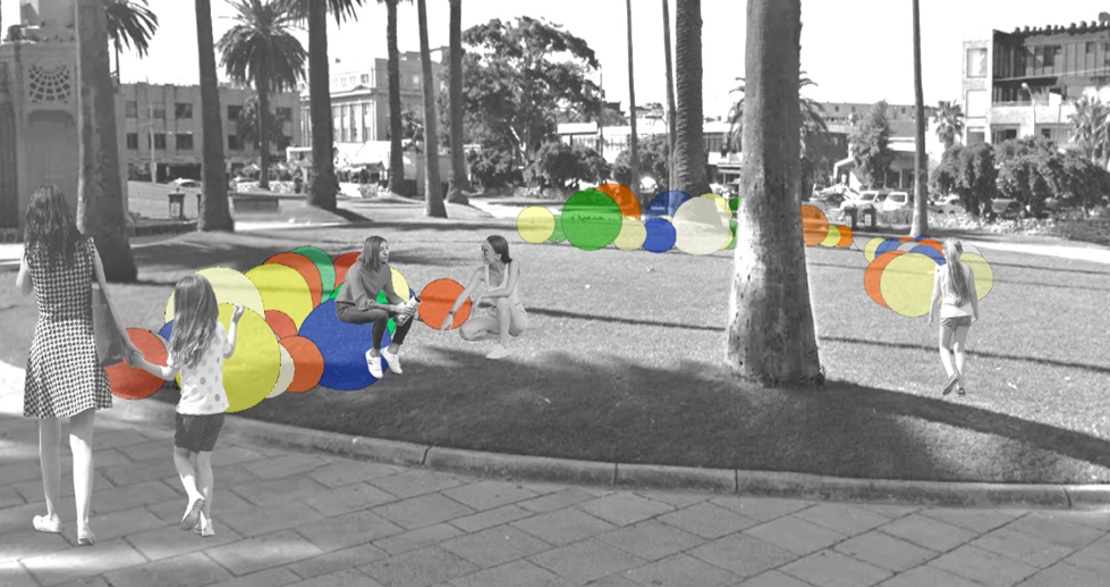 Nina Sanadze
Nina Sanadze's Call to Peace is a socially engaged monument activating the site through weekly community workshops with the artist as well as musical performances. Replicating a historic monument with the same title and using scaffolding as a conceptual device questioning impermanence of monuments, this large sculpture will bring intrigue and excitement to the Clarendon Street, South Melbourne. Designed as a place of gathering and social discourse, this project employs music, humour and art to call for tolerance, empathy and peace in our often polarised society.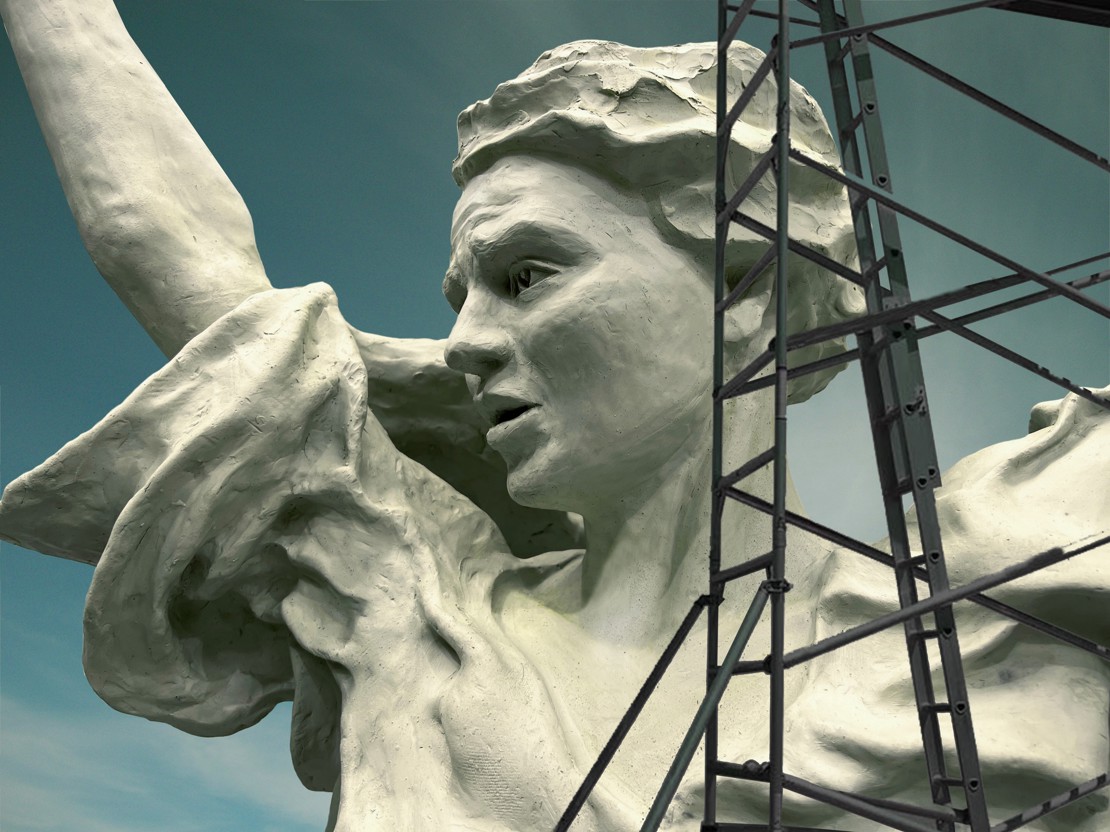 Jonathan Leahey
Jonathan Leahey's Fairy celebrates the smallest species of penguin - eudyptula minor, or Little Penguin, an aquatic flightless bird that lives on St Kilda's foreshore. Fairy will be anything but a "little". Standing at 500 cm and fabricated from 3 mm corten steel, Fairy will be an icon and place maker day and night, inspired by one of St Kilda's least transient populations. Fairy will be one of the grandest, if not the biggest, penguin on the planet. This work is created in conjunction with the Bay Keeper, Neil Blake OAM, and is an origami representation of a Little Penguin.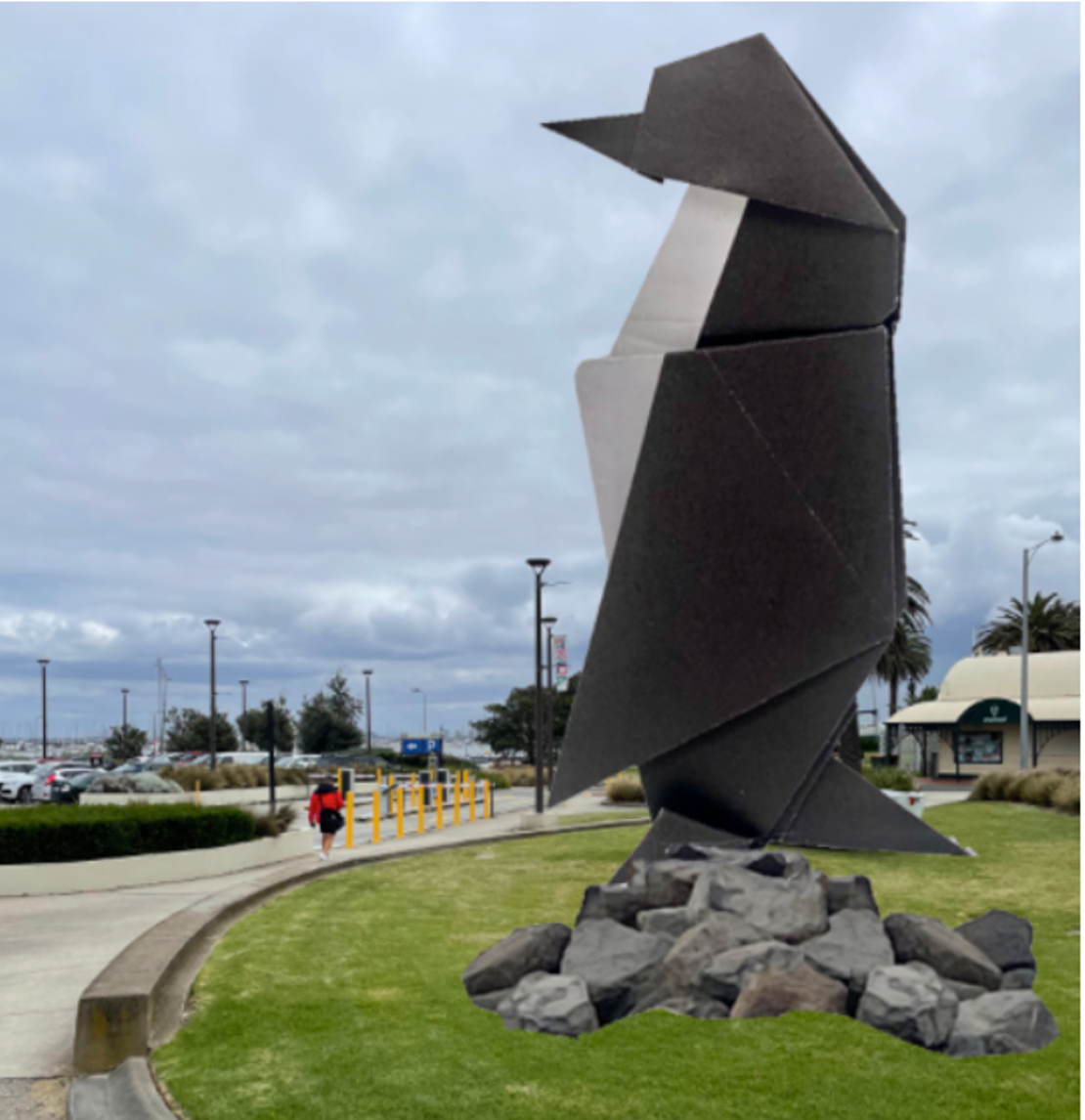 Office of Culture, Technology and Architecture (OCTA)
Screening is a multimedia installation that uses material and technological devices to create a variety of conditions which interrogate notions of self-image and identity in contemporary society. The installation is an immersive passageway clad with a large digital screen and one-way mirror, charging the surrounding public space with a sense of intrigue and event. The work explores society's fascination with self-image, which is primarily constructed and curated through interaction with screens, and how our engagement with screens is altering our relationship to ourselves, others, and the material world.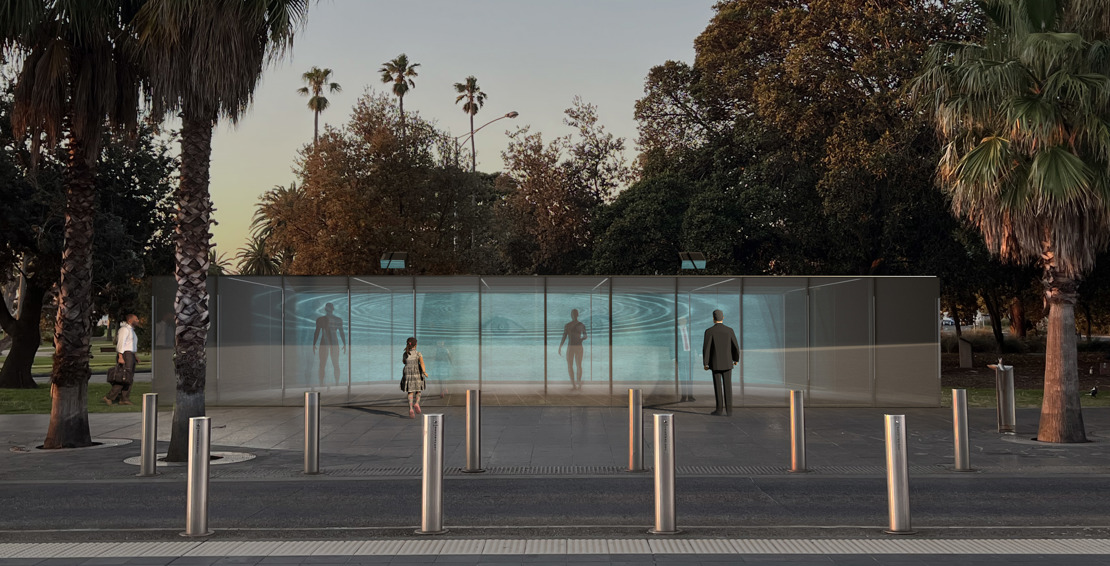 Village Well and Slow Art Collective
W(e)aves of Colour will introduce 'tactical urbanism' to our City. Similar to yarn bombing, a popular form of activism with the overall goal of covering urban objects with yarn, Village Well and Slow Art Collective aim to make a public statement by changing people's way of looking at existing spaces by adding layers of colour and intricacies in a truly collaborative process.
W(e)aves of Colour will deliver a colourful and dynamic overhead art installation that will provide a virtual roof to Acland Plaza, effectively integrating a playful sense of human scale and creating an inviting and 'instagrammable' place for resting, meeting and eating.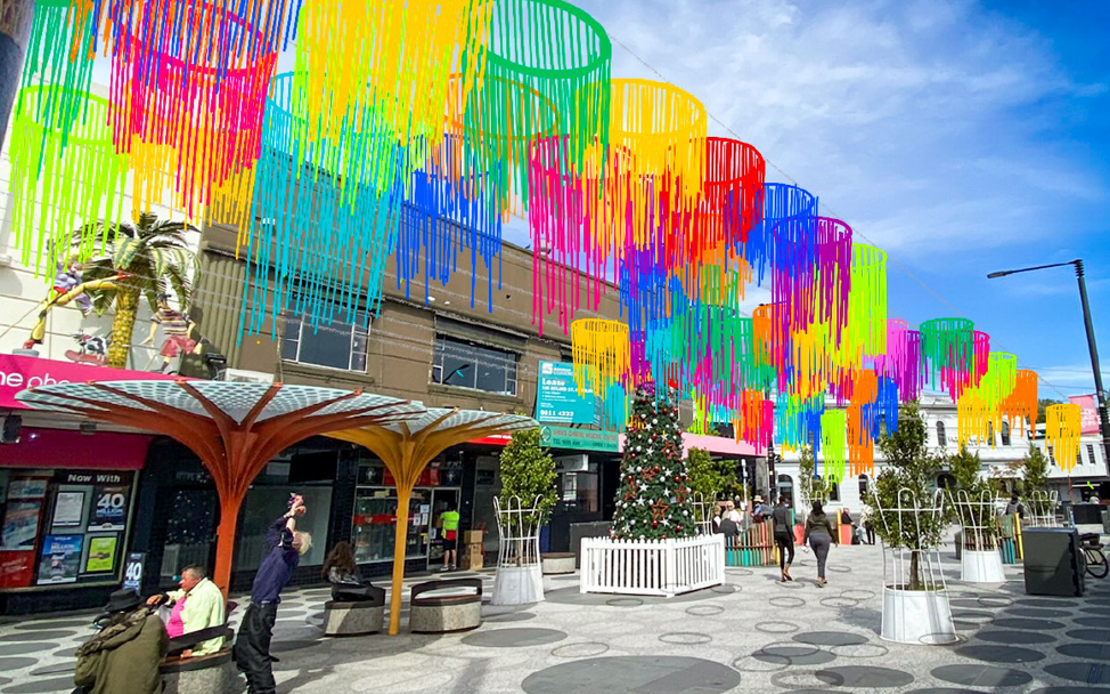 EXCX and LIAN
Shifting sand is a temporary installation made primarily of dyed sandbags, an immediately recognisable object associated with temporary infrastructure, weather emergencies and coastline reinforcement. The bags have a tactile woven surface quality and are firm, sturdy, and comfortable to sit on.
A rigidly geometric timber frame is counterposed with the fluid sandbag formation, creating uncertainty about whether the frame is holding the sandbags down or the sandbags are holding the frame up. Structurally, both are the case. This tells a story about the intertwined fates of the coastline and the built environment, one constantly moving, and the other designed not to.
The installation forms various intimate spaces, at the scale of a living room yet clearly oriented outwards towards the urban surroundings and welcoming curious passers-by. It is designed as a place for people to stop and sit, for children to explore, and for small groups to collect on and around. It aims to reactivate the linear reserve on Victoria Avenue, as a generous and playful installation that is also thoughtful, poetic and responsible.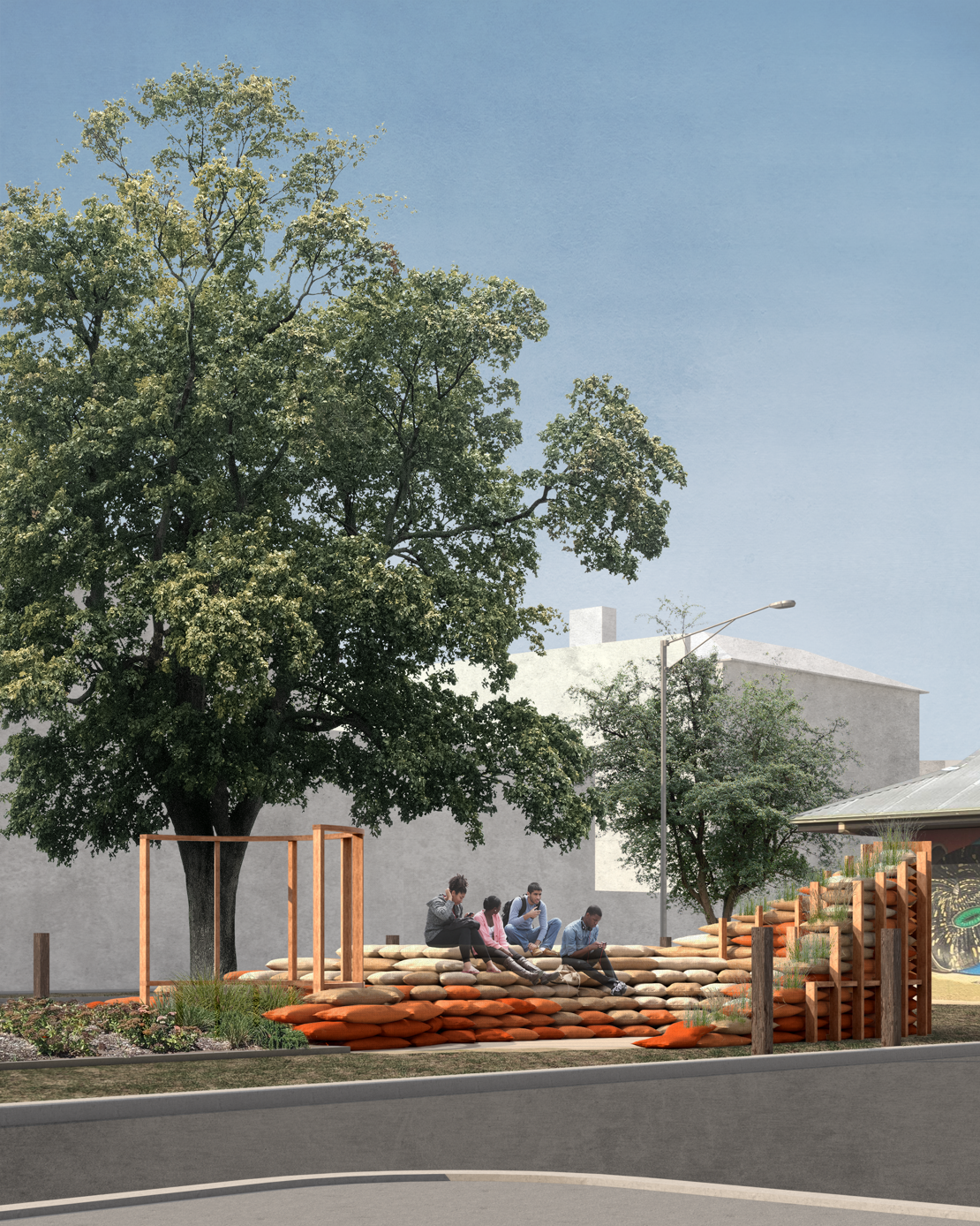 Applications are now closed and we are no longer accepting entries.
Get the latest news straight to your inbox
Divercity brings you the latest City news, what's on, service updates and local exclusives, such as discounts and freebies.
To keep up to date with news about your City and Council, sign up now.