St Kilda Triangle
The St Kilda Triangle remains a long term development opportunity for the City of Port Phillip.

Council continues to look at ways to partner with the Victorian Government to decide a future use for the site consistent with the adopted 2016 masterplan.
The St Kilda Triangle, located next to the Palais Theatre in St Kilda, is a unique opportunity as one of Melbourne's last bayside renewal sites. It is currently a car park.
The 2016 St Kilda Triangle Masterplan (PDF 14.3 MB) outlines the Council and the community's agreed future aspiration for the development of the Triangle site.
The Masterplan establishes a vision for the Triangle site, and a framework that outlines where built structures should be located on the site, details of the structures including size, the character of the public realm and the connections to the broader precinct.
The Masterplan also sets out how the Triangle site could be funded and delivered to provide the highest quality outcomes for the local community and the people of Victoria.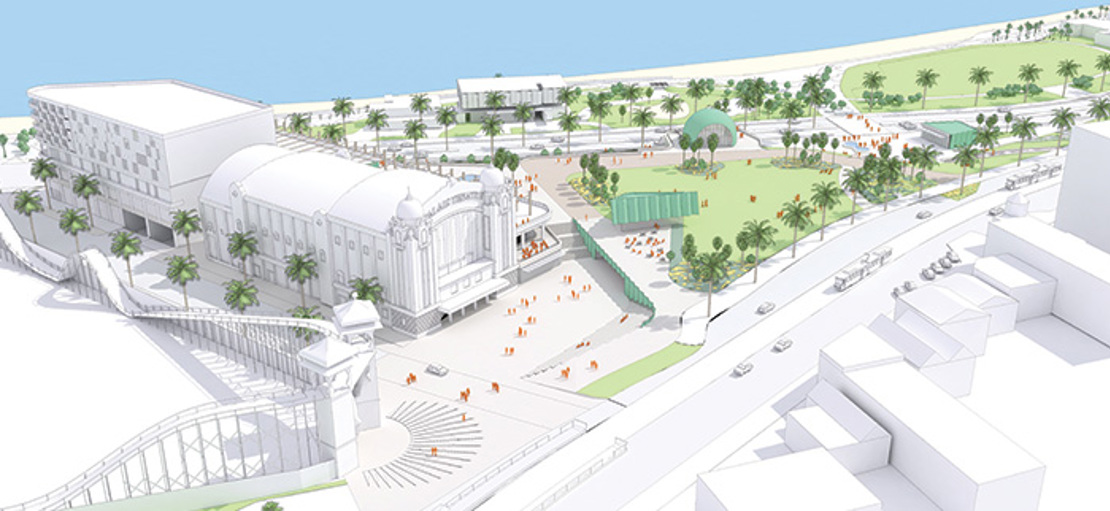 Key elements of the St Kilda Triangle masterplan:
Slopes extended to create a new public space connecting the foreshore across Jacka Boulevard.
Lawn extended along The Esplanade above the cultural facility, creating a new landscape experience and views of the foreshore and bay.
Cultural facility created with a new garden roof and terraces accessed directly from The Esplanade footpath.
Palais forecourt created to connect the Palais, Luna Park and the new cultural facility entry.
Garden slopes created to provide the opportunity to adopt a contemporary planting scheme and provide all abilities access from The Esplanade across The Lawn to Jacka Boulevard.
Building development at the rear of the Palais Theatre, with hotel accommodation wrapping around a cultural facility or performance space.
Car parking with 350 spaces created on site below ground. Entry to the car park is from Cavell Street.
The St Kilda Triangle Masterplan is not a final building or landscape design. The depicted plan is indicative only of the potential size and location of buildings, trees and spaces. These depictions do not necessarily represent how the Triangle site will look when constructed.
Further design of buildings and landscape will be part of future project development.
The Masterplan does not change the status of current planning scheme controls. A planning scheme amendment is required to implement the St Kilda Triangle Masterplan.
System.ArgumentException: Could not find a datatype with identifier 10954.
Parameter name: id
   at Umbraco.Core.Models.PublishedContent.PublishedContentTypeFactory.GetDataType(Int32 id) in D:\a\1\s\src\Umbraco.Core\Models\PublishedContent\PublishedContentTypeFactory.cs:line 95
   at Umbraco.Core.Models.PublishedContent.PublishedPropertyType..ctor(String propertyTypeAlias, Int32 dataTypeId, Boolean isUserProperty, ContentVariation variations, PropertyValueConverterCollection propertyValueConverters, IPublishedModelFactory publishedModelFactory, IPublishedContentTypeFactory factory) in D:\a\1\s\src\Umbraco.Core\Models\PublishedContent\PublishedPropertyType.cs:line 69
   at Umbraco.Core.Models.PublishedContent.PublishedPropertyType..ctor(IPublishedContentType contentType, PropertyType propertyType, PropertyValueConverterCollection propertyValueConverters, IPublishedModelFactory publishedModelFactory, IPublishedContentTypeFactory factory) in D:\a\1\s\src\Umbraco.Core\Models\PublishedContent\PublishedPropertyType.cs:line 34
   at Umbraco.Core.Models.PublishedContent.PublishedContentTypeFactory.CreatePropertyType(IPublishedContentType contentType, PropertyType propertyType) in D:\a\1\s\src\Umbraco.Core\Models\PublishedContent\PublishedContentTypeFactory.cs:line 55
   at System.Linq.Enumerable.WhereSelectEnumerableIterator`2.MoveNext()
   at System.Collections.Generic.List`1..ctor(IEnumerable`1 collection)
   at System.Linq.Enumerable.ToList[TSource](IEnumerable`1 source)
   at Umbraco.Core.Models.PublishedContent.PublishedContentType..ctor(IContentTypeComposition contentType, IPublishedContentTypeFactory factory) in D:\a\1\s\src\Umbraco.Core\Models\PublishedContent\PublishedContentType.cs:line 25
   at Our.Umbraco.DocTypeGridEditor.Helpers.DocTypeGridEditorHelper.<>c__DisplayClass3_0.<GetContentTypesByAlias>b__0()
   at Umbraco.Core.Cache.AppCacheExtensions.<>c__DisplayClass5_0`1.<GetCacheItem>b__0() in D:\a\1\s\src\Umbraco.Core\Cache\AppCacheExtensions.cs:line 62
   at Umbraco.Core.Cache.FastDictionaryAppCacheBase.<>c__DisplayClass21_0.<GetSafeLazy>b__0() in D:\a\1\s\src\Umbraco.Core\Cache\FastDictionaryAppCacheBase.cs:line 285
--- End of stack trace from previous location where exception was thrown ---
   at System.Runtime.ExceptionServices.ExceptionDispatchInfo.Throw()
   at Umbraco.Core.Cache.WebCachingAppCache.GetInternal(String key, Func`1 factory, Nullable`1 timeout, Boolean isSliding, CacheItemPriority priority, CacheItemRemovedCallback removedCallback, String[] dependentFiles) in D:\a\1\s\src\Umbraco.Core\Cache\WebCachingAppCache.cs:line 174
   at Umbraco.Core.Cache.WebCachingAppCache.Get(String key, Func`1 factory) in D:\a\1\s\src\Umbraco.Core\Cache\WebCachingAppCache.cs:line 34
   at Umbraco.Core.Cache.DeepCloneAppCache.Get(String key, Func`1 factory)
   at Umbraco.Core.Cache.AppCacheExtensions.GetCacheItem[T](IAppCache provider, String cacheKey, Func`1 getCacheItem) in D:\a\1\s\src\Umbraco.Core\Cache\AppCacheExtensions.cs:line 62
   at Our.Umbraco.DocTypeGridEditor.Helpers.DocTypeGridEditorHelper.GetContentTypesByAlias(String contentTypeAlias)
   at Our.Umbraco.DocTypeGridEditor.Helpers.DocTypeGridEditorHelper.ConvertValue(String id, String contentTypeAlias, String dataJson)
   at Umbraco.Core.Cache.AppCacheExtensions.<>c__DisplayClass5_0`1.<GetCacheItem>b__0() in D:\a\1\s\src\Umbraco.Core\Cache\AppCacheExtensions.cs:line 62
   at Umbraco.Core.Cache.FastDictionaryAppCacheBase.<>c__DisplayClass21_0.<GetSafeLazy>b__0() in D:\a\1\s\src\Umbraco.Core\Cache\FastDictionaryAppCacheBase.cs:line 285
--- End of stack trace from previous location where exception was thrown ---
   at System.Runtime.ExceptionServices.ExceptionDispatchInfo.Throw()
   at Umbraco.Core.Cache.HttpRequestAppCache.Get(String key, Func`1 factory) in D:\a\1\s\src\Umbraco.Core\Cache\HttpRequestAppCache.cs:line 81
   at Umbraco.Core.Cache.AppCacheExtensions.GetCacheItem[T](IAppCache provider, String cacheKey, Func`1 getCacheItem) in D:\a\1\s\src\Umbraco.Core\Cache\AppCacheExtensions.cs:line 62
   at ASP._Page_app_plugins_doctypegrideditor_render_DocTypeGridEditor_cshtml.Execute() in D:\home\site\wwwroot\app_plugins\doctypegrideditor\render\DocTypeGridEditor.cshtml:line 26
   at System.Web.WebPages.WebPageBase.ExecutePageHierarchy()
   at System.Web.Mvc.WebViewPage.ExecutePageHierarchy()
   at System.Web.WebPages.WebPageBase.ExecutePageHierarchy(WebPageContext pageContext, TextWriter writer, WebPageRenderingBase startPage)
   at Umbraco.Web.Mvc.ProfilingView.Render(ViewContext viewContext, TextWriter writer) in D:\a\1\s\src\Umbraco.Web\Mvc\ProfilingView.cs:line 25
   at System.Web.Mvc.Html.PartialExtensions.Partial(HtmlHelper htmlHelper, String partialViewName, Object model, ViewDataDictionary viewData)
   at ASP._Page_Views_Partials_grid_editors_Base_cshtml.Execute() in D:\home\site\wwwroot\Views\Partials\grid\editors\Base.cshtml:line 20
System.ArgumentException: Could not find a datatype with identifier 10954.
Parameter name: id
   at Umbraco.Core.Models.PublishedContent.PublishedContentTypeFactory.GetDataType(Int32 id) in D:\a\1\s\src\Umbraco.Core\Models\PublishedContent\PublishedContentTypeFactory.cs:line 95
   at Umbraco.Core.Models.PublishedContent.PublishedPropertyType..ctor(String propertyTypeAlias, Int32 dataTypeId, Boolean isUserProperty, ContentVariation variations, PropertyValueConverterCollection propertyValueConverters, IPublishedModelFactory publishedModelFactory, IPublishedContentTypeFactory factory) in D:\a\1\s\src\Umbraco.Core\Models\PublishedContent\PublishedPropertyType.cs:line 69
   at Umbraco.Core.Models.PublishedContent.PublishedPropertyType..ctor(IPublishedContentType contentType, PropertyType propertyType, PropertyValueConverterCollection propertyValueConverters, IPublishedModelFactory publishedModelFactory, IPublishedContentTypeFactory factory) in D:\a\1\s\src\Umbraco.Core\Models\PublishedContent\PublishedPropertyType.cs:line 34
   at Umbraco.Core.Models.PublishedContent.PublishedContentTypeFactory.CreatePropertyType(IPublishedContentType contentType, PropertyType propertyType) in D:\a\1\s\src\Umbraco.Core\Models\PublishedContent\PublishedContentTypeFactory.cs:line 55
   at System.Linq.Enumerable.WhereSelectEnumerableIterator`2.MoveNext()
   at System.Collections.Generic.List`1..ctor(IEnumerable`1 collection)
   at System.Linq.Enumerable.ToList[TSource](IEnumerable`1 source)
   at Umbraco.Core.Models.PublishedContent.PublishedContentType..ctor(IContentTypeComposition contentType, IPublishedContentTypeFactory factory) in D:\a\1\s\src\Umbraco.Core\Models\PublishedContent\PublishedContentType.cs:line 25
   at Our.Umbraco.DocTypeGridEditor.Helpers.DocTypeGridEditorHelper.<>c__DisplayClass3_0.<GetContentTypesByAlias>b__0()
   at Umbraco.Core.Cache.AppCacheExtensions.<>c__DisplayClass5_0`1.<GetCacheItem>b__0() in D:\a\1\s\src\Umbraco.Core\Cache\AppCacheExtensions.cs:line 62
   at Umbraco.Core.Cache.FastDictionaryAppCacheBase.<>c__DisplayClass21_0.<GetSafeLazy>b__0() in D:\a\1\s\src\Umbraco.Core\Cache\FastDictionaryAppCacheBase.cs:line 285
--- End of stack trace from previous location where exception was thrown ---
   at System.Runtime.ExceptionServices.ExceptionDispatchInfo.Throw()
   at Umbraco.Core.Cache.WebCachingAppCache.GetInternal(String key, Func`1 factory, Nullable`1 timeout, Boolean isSliding, CacheItemPriority priority, CacheItemRemovedCallback removedCallback, String[] dependentFiles) in D:\a\1\s\src\Umbraco.Core\Cache\WebCachingAppCache.cs:line 174
   at Umbraco.Core.Cache.WebCachingAppCache.Get(String key, Func`1 factory) in D:\a\1\s\src\Umbraco.Core\Cache\WebCachingAppCache.cs:line 34
   at Umbraco.Core.Cache.DeepCloneAppCache.Get(String key, Func`1 factory)
   at Umbraco.Core.Cache.AppCacheExtensions.GetCacheItem[T](IAppCache provider, String cacheKey, Func`1 getCacheItem) in D:\a\1\s\src\Umbraco.Core\Cache\AppCacheExtensions.cs:line 62
   at Our.Umbraco.DocTypeGridEditor.Helpers.DocTypeGridEditorHelper.GetContentTypesByAlias(String contentTypeAlias)
   at Our.Umbraco.DocTypeGridEditor.Helpers.DocTypeGridEditorHelper.ConvertValue(String id, String contentTypeAlias, String dataJson)
   at Umbraco.Core.Cache.AppCacheExtensions.<>c__DisplayClass5_0`1.<GetCacheItem>b__0() in D:\a\1\s\src\Umbraco.Core\Cache\AppCacheExtensions.cs:line 62
   at Umbraco.Core.Cache.FastDictionaryAppCacheBase.<>c__DisplayClass21_0.<GetSafeLazy>b__0() in D:\a\1\s\src\Umbraco.Core\Cache\FastDictionaryAppCacheBase.cs:line 285
--- End of stack trace from previous location where exception was thrown ---
   at System.Runtime.ExceptionServices.ExceptionDispatchInfo.Throw()
   at Umbraco.Core.Cache.HttpRequestAppCache.Get(String key, Func`1 factory) in D:\a\1\s\src\Umbraco.Core\Cache\HttpRequestAppCache.cs:line 81
   at Umbraco.Core.Cache.AppCacheExtensions.GetCacheItem[T](IAppCache provider, String cacheKey, Func`1 getCacheItem) in D:\a\1\s\src\Umbraco.Core\Cache\AppCacheExtensions.cs:line 62
   at ASP._Page_app_plugins_doctypegrideditor_render_DocTypeGridEditor_cshtml.Execute() in D:\home\site\wwwroot\app_plugins\doctypegrideditor\render\DocTypeGridEditor.cshtml:line 26
   at System.Web.WebPages.WebPageBase.ExecutePageHierarchy()
   at System.Web.Mvc.WebViewPage.ExecutePageHierarchy()
   at System.Web.WebPages.WebPageBase.ExecutePageHierarchy(WebPageContext pageContext, TextWriter writer, WebPageRenderingBase startPage)
   at Umbraco.Web.Mvc.ProfilingView.Render(ViewContext viewContext, TextWriter writer) in D:\a\1\s\src\Umbraco.Web\Mvc\ProfilingView.cs:line 25
   at System.Web.Mvc.Html.PartialExtensions.Partial(HtmlHelper htmlHelper, String partialViewName, Object model, ViewDataDictionary viewData)
   at ASP._Page_Views_Partials_grid_editors_Base_cshtml.Execute() in D:\home\site\wwwroot\Views\Partials\grid\editors\Base.cshtml:line 20