Beacon Cove Ferry Landing - temporary closure
Council has been Committee of Management for a number of assets at Beacon Cove since 2013 and undertakes routine inspections to monitor asset condition. Following a recent inspection, Council has been recommended to precautionarily close the boat landing whilst further investigations are undertaken.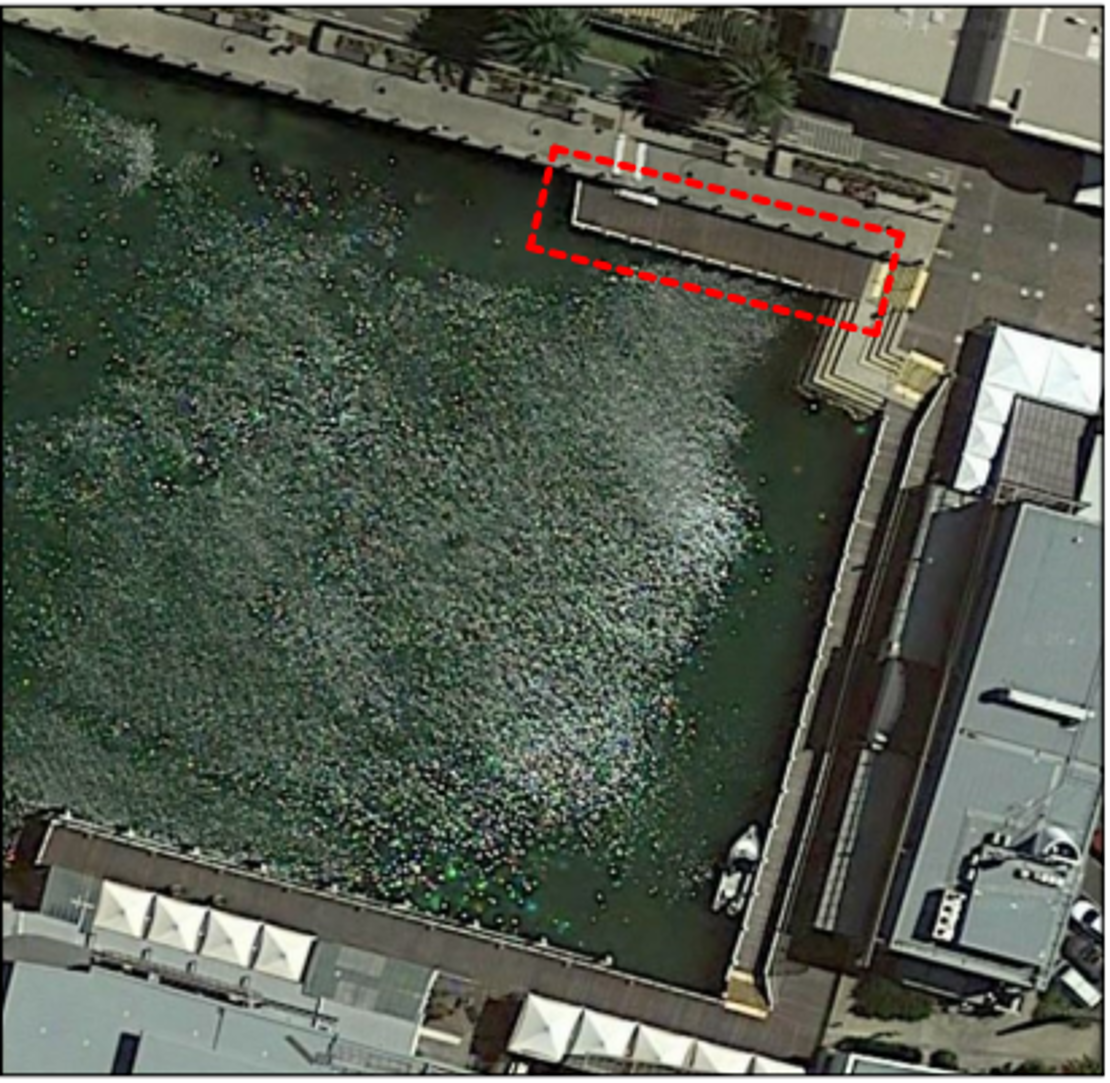 Location
North-Eastern corner and Eastern and Southern Promenades of Beacon Cove
Milestones
Temporary Closure of Beacon Cove boat landing

24 Nov 2021

This is ongoing until invasive inspections can be conducted.

Eastern and Southern Promenades of Beacon Cove: Underwater visual inspections

25 Nov 2021

Thursday 25 November 2021 and Friday 26 November 2021.
Why are we doing this?
Council carries out yearly level 1 visual inspections to check joints, timber fastners, and piles protective jackets above the water.
Level 3 inspections occur every 3-years with underwater divers completing visual inspections, and where required, do invasive coring of timber piles to ascertain the condition of the piles.
The results of these inspections and investigations provide Council with what rectification is required, and accordingly Council has budgeted for some expected replacements over the next 10-years.
A level 3 condition inspection was performed in 2017/18 which found a number of piles to be in poor condition and as a result 27 piles were replaced as part of a larger project. The remaining piles were noted in fair to good condition and an estimation of the deterioration rate was used to determine the remaining useful life of the piles.
As part of the 3-yearly inspection cycle, Council has engaged consultants to undertake level 3 underwater inspections. Divers have recently inspected the ferry landing at the North-Eastern corner of Beacon Cove (as shown in the picture above) and identified that some of the piles have deteriorated at a faster rate than expected, likely due to a higher than anticipated prevalence of marine borer. Further invasive testing is now required to determine the full extent of the condition and provide an indication of remediation works required.
The impact
As a precaution based on the findings of the visual inspection, Council has been recommended to temporarily close the boat landing until the invasive inspections can be conducted to ascertain the overall condition and plan for any remedial works required.
The boat landing will be inaccessible to the general public until further notice and will be cordoned off with appropriate signage.
Council has been working with the operators of the St Kilda ferry service to identify alternate arrangements so that they can recommence their service from Port Melbourne as planned this weekend. We have agreed that they can land against the lower Eastern Boardwalk promenade (next to Mr Hobsons restaurant) in the interim. This will require them to have their gangplank across the lower boardwalk during their sailings which will limit access to a small section of the lower boardwalk. The upper boardwalk and pedestrian path on the carpark side of the restaurants will remain accessible. Council have arranged bollards and tape to go around the gangplank whilst it is across the boardwalk which the ferry operator will be responsible for putting out. The gangplank will be stored away as usual after their last sailing each day reinstating full access.
The ferry will be sailing this Saturday and Sunday (4 and 5 December) and then each Friday, Saturday, Sunday thereafter.
This is a temporary arrangement and the ferry will move back to using the boat landing once repairs have been made. The tenants in the restaurants have been informed of this arrangement.
Objectives
Underwater visual inspections of the North-Eastern corner and Eastern and Southern Promenades of Beacon Cove will inform their condition, and will be followed by invasive testing and outline including any remediation works required.
Council have provided St Kilda Ferry service priority mooring along the Eastern promenade to ensure there is minimal effect on their ongoing services whilst the boat landing is repaired.
Signs are being erected notifying mariners to keep a certain area of the promenade clear for the ferry mooring only from 11.20 to 11.30am, 1.20 to 1.30pm, 3.20 to 3.30pm, and 5.20 to 5.30pm Friday to Sunday, and every day from 26 December to 2 January.
This is a temporary agreement only to ensure passengers are able to safely board and disembark the vessel at this location, and signs will be removed once the boat landing is re-open for usual operations.
Next steps
Council has engaged a contractor to complete the repair works to the boat landing who will be commencing in early January, subject to the necessary permits being received in time.
Works are expected to be undertaken 17 January 2022 to 4 March 2022.
The boat landing will reopen once a final inspection has been completed and it is deemed safe to do so.
Additional inspections
Divers have undertaken underwater visual inspections of the Eastern and Southern Promenades of Beacon Cove (as shown in the picture below) and are currently undertaking invasive testing which will inform their condition.
Results of these inspections will be communicated to key stakeholders as required and an update provided on our project web page, including any remediation works planned.