Arts
Divercity magazine
Local business
Heritage
WHEELS 'n DECKS
Published 10 January 2023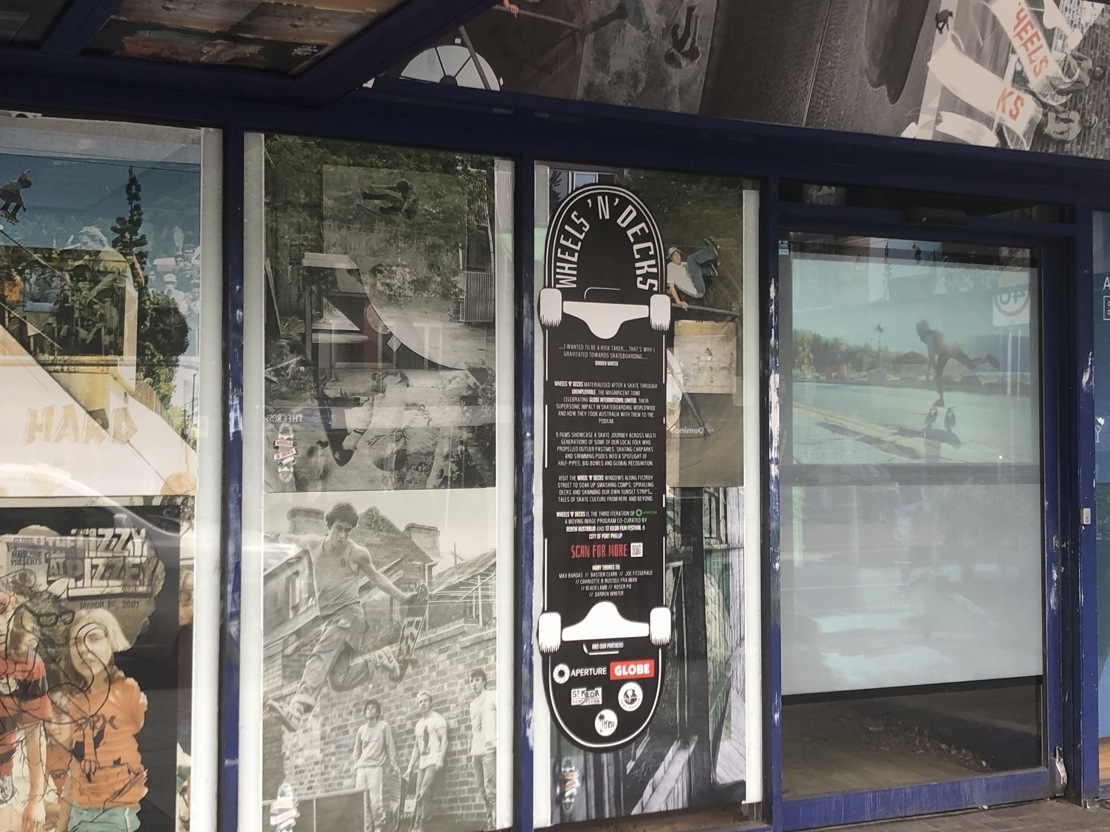 Fitzroy Street, St Kilda, is the scene of a new projection installation celebrating three generations of skate culture.
WHEELS 'n DECKS is the third edition of the Aperture projection series created in collaboration with Renew Fitzroy Street.
City of Port Phillip's Film and Industry Lead Richard Sowada explains the history behind the exhibition:
Aperture seeks to harness histories and moments of St Kilda and the City of Port Phillip through surprising intersections, collaborations and connections.

The first instalment worked in conjunction with the Jewish Museum's Mirka Mora exhibition with two projectors at 43 Fitzroy Street. Our second instalment – Berlin by the Sea – highlighted St Kilda's punk rock history with a projection on a window at The George right at the entrance to the famed Crystal Ballroom, another again at 43 Fitzroy Street and one featuring the fantastic photographs of Peter Milne right next door at 39-41.
This time around, we're focusing on highlighting three generations of skate culture with some very nice and perhaps unknown links to St Kilda. The exhibition was born out of Globe Inc's fabulous look at their own history and personal experiences in the book Unemployable.
With that as a starting point, Mish Eisen (Renew Fitzroy Street Project Manager) and I began a journey through skate parks looking at the people that inhabit them. On two projectors at good old 39-41 Fitzroy Street, you can see some of that Globe Inc history with around 30 images from the said book, plus the seminal Australian skate documentary Tic Tac 2 Heel Flip.
Take a short walk towards the Victorian Pride Centre and past a great little cluster of shops, and at 63 Fitzroy Street, you'll discover another three projections: a single channel work interviewing skate pioneer and Elwood resident Darren Winter, and right next to it, a two-channel projection looking at St Kilda skate park from above and a fun observational piece called Park Rats.
They've come up super well and as night falls, they really come into their own. If you're in the area, take a look.
WHEELS 'n DECKS can be viewed daily from 3 pm.
Get the latest news straight to your inbox
This article will feature in the January edition of Divercity. Divercity brings you the latest City news, what's on, service updates and local exclusives, such as discounts and freebies. To keep up to date with news about your City and Council, sign up now.