Sustainability
Your community
Sustainable living - Judith's story
Published 17 May 2023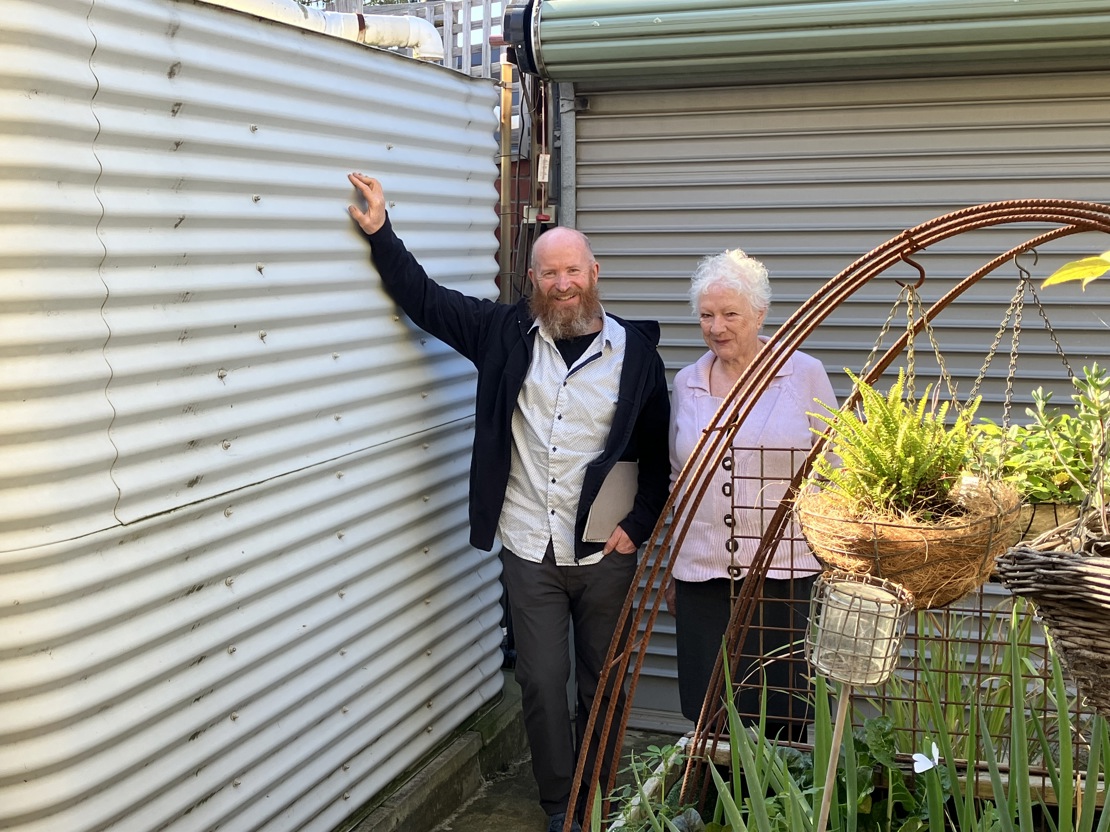 A long time member of the St Kilda community, Judith has spent decades making upgrades to her period home to make it more sustainable. She has explored other aspects of her life from transport to shopping, to live the most sustainable way she knows how.
Judith has made many changes to her home over the years to make it more sustainable including putting in solar hot water, installing bamboo floors and adding solar panels on her roof. She has also installed a water tank which is plumbed into the toilet and washing machine and is used to water her flourishing vegetable patch and pot plants.
Like most Victorians, Judith still has some gas appliances, but uses a very small amount of gas and only when absolutely necessary. She is also very careful with her electricity use and has got her bills down as low as possible to $10 per week. When discussing her careful spending, Judith reflected on her upbringing and her parents who went through the depression. Her father could not afford to buy a newspaper she recalls.
Living so close to the city, Judith also made the decision to sell her car almost a decade ago and after seeing a Go Get car parked on the street. She has been using car share ever since. If she needs to do a large shop at the supermarket she will use the Go Get car or to get away for a weekend to the countryside.
Another thing Judith is mindful of is plastics. She hates plastic and makes conscious choices when out shopping to avoid plastic at all costs. In discussing the worst thing ever invented, Judith's number one pet hate is fishing nets and the damage they do to the marine environment.
Through the Elwood and St Kilda Neighbourhood Learning Centre Judith also enjoys crafting and even made a blanket out of old dresses with the help of her craft group friends.
Recently, Judith responded to the offer in the Sustainability eNews for a consultation about home sustainability with Brett Hedger, City of Port Phillip's Community Impact Officer. Brett suggested sealing some gaps around the home and putting draught sealing on the external doors.
"If I can install these gap sealing products anyone can" Judith says.
Brett also showed Judith how to read the electricity meter, understand the different measurements displayed and discussed alternative electricity providers.  Judith encourages people to check their providers every now and again, to check they are on the most sustainable plan.
Judith is most proud of the water saving measures she has put in place, and the impact that has on the environment.
Judith's vision for Port Phillip is for "less cars, less traffic and less pollution".
If you would like a home consultation to make your home more environmentally sustainable, please email brett.hedger@portphillip.vic.gov.au