Divercity magazine
Older people
Your community
Recognising our multicultural seniors groups
Published 17 March 2023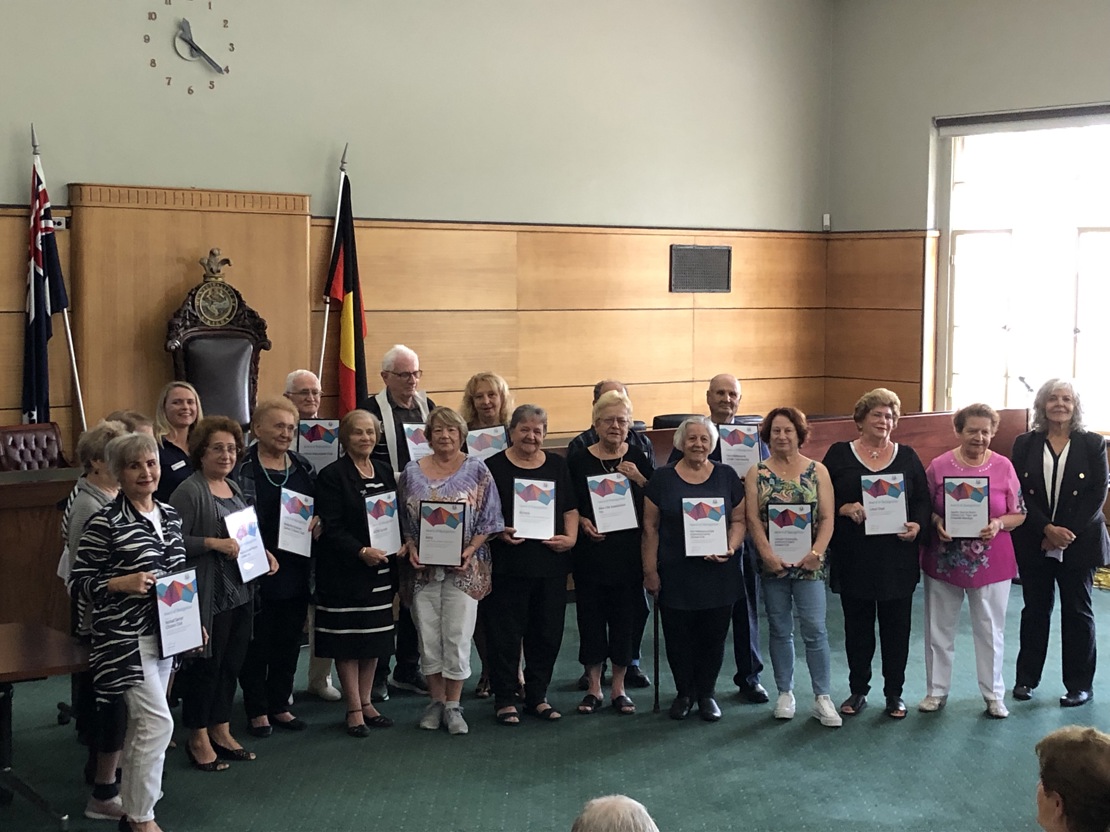 As part of Cultural Diversity Week celebrations, Council hosted a special event to acknowledge the ongoing work of our multicultural seniors groups at St Kilda Town Hall on Wednesday 15 March.
Framed certificates were presented to 22 multicultural seniors groups from across the City at a morning tea which featured choir and dance performances.
These groups represent over 1,000 residents over the age of 65 whose experiences and contributions are valued by the City of Port Phillip.
This year's Cultural Diversity Week theme was 'Our Past. Our Future: Celebrating and reflecting on the contributions of Victoria's multicultural communities'.
Multiculturalism is an integral part of our City's history and success, with Station Pier the first landfall in Australia for many new arrivals. Some of the groups that participated in the event have been operating in our community for over 70 years – each playing a pivotal role in supporting social and cultural connection.
Georgina Tsolidis, Chair of Council's Multicultural Advisory Committee (MAC), said: "We are pleased to participate in this event which recognises the considerable contribution of our multicultural seniors groups who enable and support a dynamic diverse community. I also commend the staff who support these groups."
Council is proud to support each of the community groups in a variety of ways. This includes through subsidised community facilities, funding opportunities with Diversity and Ageing Support grants and Seniors Festival grants.
These community groups help ensure Port Phillip is rich with cultural diversity and an inclusive space for all.
The groups recognised include:
Albert Park/South Melbourne Senior Citizens Club
Association of Former Inmates of the Nazi Concentration Camps and Ghettos from the Former Soviet Union
Eremia Greek Senior Citizens Club
Ethnic Discussion Club
Galini Greek Elderly Citizens Association of Port Melbourne
Healthy Tourism Senior Citizens Club 'Vigor' and Ensemble Nostalgia
Lemnian Community of Victoria Elderly Citizens Club
Lotus Choir
Nadezhda Russian Senior Citizens Club
National Council of Jewish Women Australia Victorian Branch
New Life Association Inc
'Astry' Polish Senior Citizens Club St Kilda Inc
Port Melbourne Greek Community
Port Melbourne Greek Community Senior Citizens Club
RCTVA Sputnik
Russian Singing Hearts Choir
'Olympia'South Melbourne Greek Women's Club
Shalom Association 
St Kilda Greek Group
Victorian Association of World War Two Veterans from the Ex-Soviet Union
Yachad Senior Citizens Club 

Multicultural Nature Guides Inc.
Visit our Community Directory to find out more about these and other groups and services in the City of Port Phillip. 
Multicultural Advisory Committee
Did you know about the City of Port Phillip's Multicultural Advisory Committee?  
Fourteen local residents from diverse backgrounds provide advice and advocacy to Council on multicultural issues and present a program celebrating for Cultural Diversity Week, Refugee Week and Welcoming Week.  
The MAC assists Council by providing advice and feedback on issues and opportunities that affect multicultural communities in the City of Port Phillip and welcome all input from these groups on matters that affect you.
You can contact them through diversity@portphillip.vic.gov.au
Multicultural Community
The City of Port Phillip is a vibrant multicultural City. This rich, cultural diversity is one of our greatest strengths and one we celebrate. The 2021 Australian Census tells us that:
We are home to people from over 160 different birthplaces, speaking more than 120 different languages and dialects at home
One in three of Port Phillip's 103,507 residents was born overseas
In our community, 56 per cent of people have at least one parent who was born overseas
Of our residents, 21 per cent speak a language other than English at home.