Divercity magazine
Council services
Your community
Popping in to a Pop-up Conversation to help shape Port Phillip
Published 11 April 2023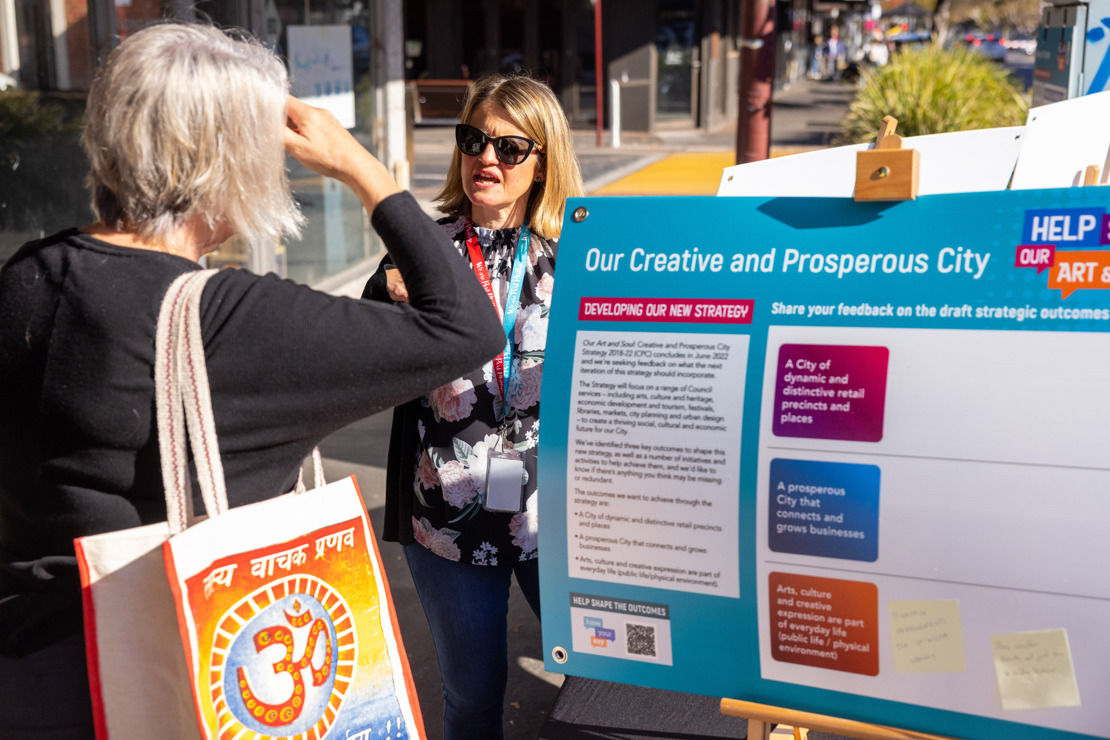 Divercity popped in to a Pop-up Conversation in this third in an occasional series looking at a day in the life of Council Officers undertaking a range of services for our community.
Among the daily hustle and bustle of lively South Melbourne Market, a small team of Council Officers is busy chatting to locals, asking for feedback on Council projects, and listening to their thoughts and opinions on a variety of issues.
The famous South Melbourne Dim Sims aren't the only item on the menu today as several projects are up for discussion, including the draft Positive Ageing Policy, a proposed Local Laws review, a new Art and Culture Heritage Strategy and a collection point for food organics and garden organics (FOGO) kitchen caddies as part of the new FOGO recycling service rollout.
By joining the conversation, residents can play their part in shaping the future of their neighbourhood and City by providing valuable feedback to inform Council decisions.
"We understand that our community members are true experts with their lived experience," Council's Head of Stakeholder Engagement, Monique, says.
"The idea of the Pop-up Conversations is to meet people where they are at, and to engage people who may not necessarily seek out information on Council's projects. We want to hear as many voices as we can.
"While we have subject matter experts internally at Council, we also need to understand what it's like to live in a certain area and to use the different services and facilities available. That's why we seek ideas and feedback from residents to help inform our projects."
Engagement Advisor Alice scans the Market crowd, ready to chat with locals wanting to participate in the pop-up session. She is joined by Council Officers who are specialists in each project field and several Councillors ready to speak to residents to get a feel for community sentiment on each of the topics.
Behind them stand several large A-frame boards highlighting each project. They feature coloured sticky notes from residents who have jotted down their thoughts and stuck them to the boards.
"We try and make each Pop-up Conversation as visually appealing and interactive as possible," Monique says.
"It might be something like voting on a topic by placing balls in different tubes representing a choice on a project, voting by using sticky dots or writing down ideas on post-it notes or postcards."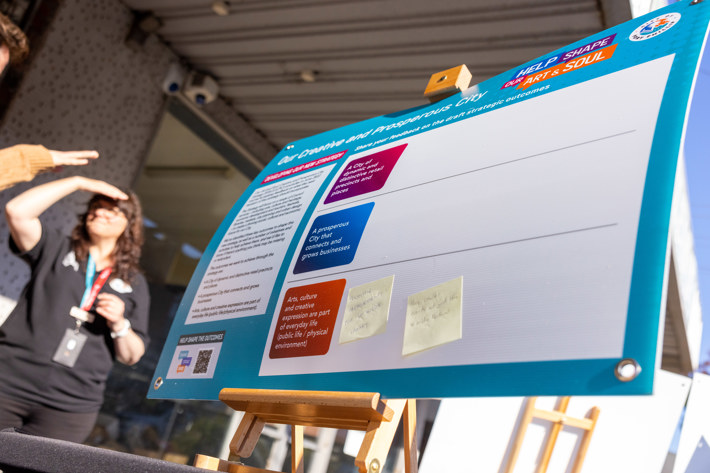 After spotting a resident looking at the colourful boards, Alice introduces herself with a friendly smile.
The resident, Gisele from Port Melbourne, stops to ask a few questions about Council's draft Positive Ageing Policy.
"I'm in the aged care sector and I was very interested to see what's happening within the Council and in this area," she said.
"I stopped by to see if I could learn a bit more and maybe do some more research of my own."
Gisele is pleased to see Councillors and Council Officers out speaking to people in her community.
"I think it's really important. The word 'Council' can be a negative term for some in the community, when you think about Council rates or parking fines, but I think this sort of community engagement is fantastic."
Beside her, a Councillor is chatting with a resident about a new Art and Culture Heritage Strategy that is being developed. Meanwhile, Karen from Albert Park has spotted the table of free FOGO kitchen caddies, which have the same recognisable fluorescent green lids as her new kerbside FOGO bin.
Karen didn't anticipate being able to pick up a FOGO caddy on her routine trip to the South Melbourne Market and now takes the opportunity to give her feedback to staff on the new waste service.
"Finally, I don't have to put my food waste in landfill, so I'm very excited," she says.
"I have a worm farm and a compost bin at home. But even then, the compost bin needs to rest, and I can fill it pretty quickly. I would still end up putting things in the waste and it's frustrating. Having a FOGO bin is great and it's a positive action."
A recent Pop-up Conversation in Elwood as part of our Neighbourhood Conversation program saw a record 78 caddies claimed as residents continue to play their part in diverting food and garden waste from landfill.
Karen grabs a caddy and familiarises herself with Council's ongoing consultations. She's glad to take this opportunity to chat with Councillors and have a say on matters in her neighbourhood without having to attend a Council Meeting.
"It's very convenient. Port Phillip is a decent sized Council, so going down to St Kilda and the offices there is not always convenient, so this is great," she says.
The Pop-up Conversations also provide an opportunity for residents to raise issues and discussions about anything happening in Port Phillip, allowing staff to keep an ear to the ground.
"It's important to have a presence in the community so that residents can come and talk to us about issues on their radar that we might not know about," Monique explains.
She hopes the pop-ups can help change perceptions held by some about how Council interacts with its community.
"My team is really passionate about working with residents and finding solutions that are beneficial to the community.
"I think there's sometimes a feeling among some residents that Council isn't aways easily accessible but we're really making a concerted effort to get out and about and make sure people can get in touch with us."
Following the Pop-up Conversation at the Market, our Engagement Team will collate and analyse the feedback and data for an engagement report, complete with demographics, outlining who they spoke to and what was raised.
The report will then be shared with the public on our Council's Have Your Say website and informs the Officers' recommendations for Councillors to consider before making decisions in the Chamber.
Other forms of community engagement that might be used on projects include workshops - online and face to face, focus groups, community panel deliberations as well as interviews and surveys on our Have Your Say website.
The Engagement Team also works closely with Council's advisory committees, seeking advice from those who are representatives of various sectors of the community.
This Pop-up Conversation was just one in a series of Neighbourhood Conversations that are held at eight different neighbourhoods across Port Phillip, about three to four times a year.
Next time you're out in your community, look out for a Pop-up Conversation and be sure to say hi to a friendly Council Officer. Your feedback will help us shape a future Council project or policy.
To find out more about Pop-up Conversations and other opportunities to join the conversation on a range of projects, visit: haveyoursay.portphillip.vic.gov.au
Get the latest news straight to your inbox
This article will feature in the April edition of Divercity. Divercity brings you the latest City news, what's on, service updates and local exclusives, such as discounts and freebies. To keep up to date with news about your City and Council, sign up now.