Divercity magazine
Local business
Transport and parking
COVID-19
Planning for a safe and successful summer for our City
Published 8 October 2021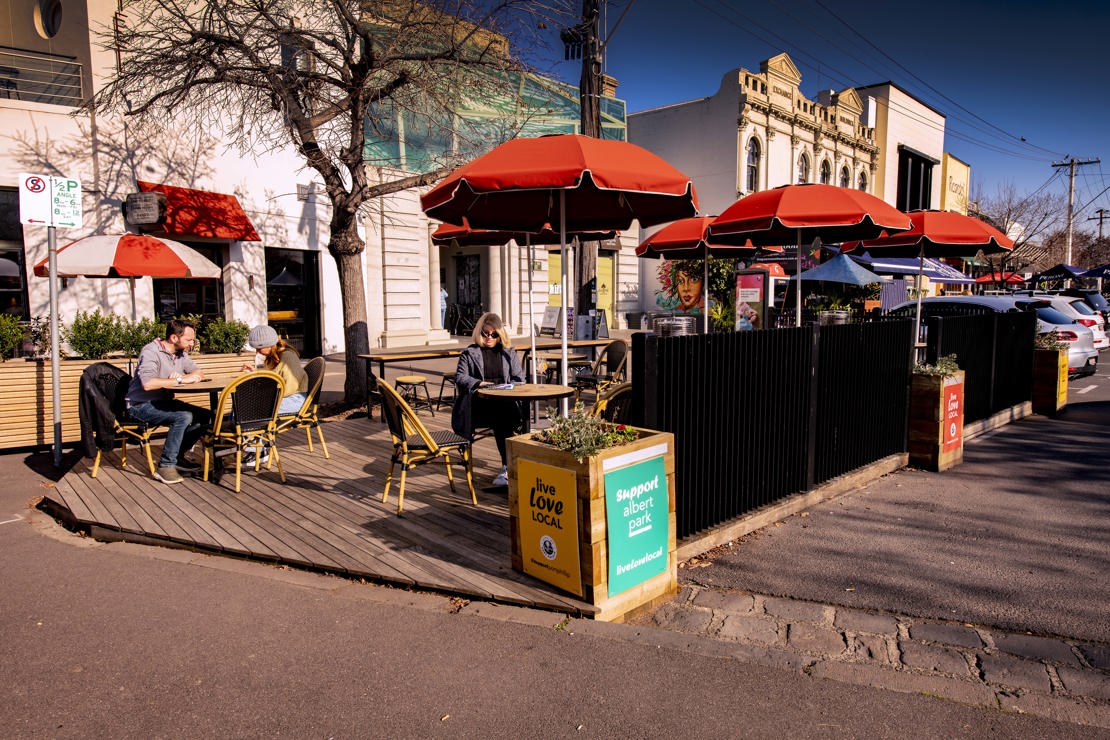 The streets of Port Phillip will again come to life with outdoor dining and eye-catching activations as we move through the Victorian Government's roadmap out of lockdown and towards a COVID-safe summer.
Once Victoria achieves a 70 per cent double vaccination rate, pubs can re-open for 50 fully vaccinated people outdoors. When the 80 per cent target is reached, (estimated 5 November) pubs, restaurants and cafes can open for seated service only, with up to 150 fully vaccinated people inside and 500 outdoors.
This means hospitality venues will once again be needing our Council's support to not only re-open but stay open through the provision of parking spaces, park and beach space and laneway/road closures, where appropriate.
As part of our 2020 Live Love Local initiative, 64 hospitality traders installed business parklets on roads to assist their post-lockdown recovery efforts. We expect this number to rise slightly this year as new businesses in our City consider how to conduct their operations outdoors. Simultaneously, we will consider a policy on making parklets permanent moving forward on October 20.
Many members of our community have enjoyed using these spaces for catch-ups with friends and family and we are looking forward to seeing our community safely gather from November.
While some parking spaces are lost in the process, keeping hospitality flourishing is vital for all businesses in our neighbourhoods as busy cafes and restaurants have beneficial flow-on effects to other retailers.
While we're still assessing applications, it's likely some of the laneways which closed last year may do so again. This enabled pubs and restaurants to further spill out onto the street as well as providing areas where live music and activation can take place.
Our foreshore was a key activation site last summer and will be again this year with residents invited to dine and drink on the sand. Establishments stretching from Elwood to Port Melbourne are working on their re-opening plans and we anticipate some fantastic temporary venues where our community can enjoy the summer they've all earned in supporting each other this year.
Keep an eye out for live music, stunning activations from our Reimagine - Activation Design Competition and much more as Port Phillip emerges from lockdown to once again becomes the vibrant City we know and love.
Share your stories with us
If you have a story about an experience with a local inclusive business you wish us to consider, please contact the Divercity Editor via ASSIST (03) 9209 6777 or email divercity@portphillip.vic.gov.au
Get the latest news straight to your inbox
This article is featured in the October edition of Divercity.
Divercity brings you the latest City news, what's on, service updates and local exclusives, such as discounts and freebies.
To keep up to date with news about your City and Council, sign up now.