Divercity magazine
Council services
Your community
Patrolling Port Phillip
Published 14 December 2021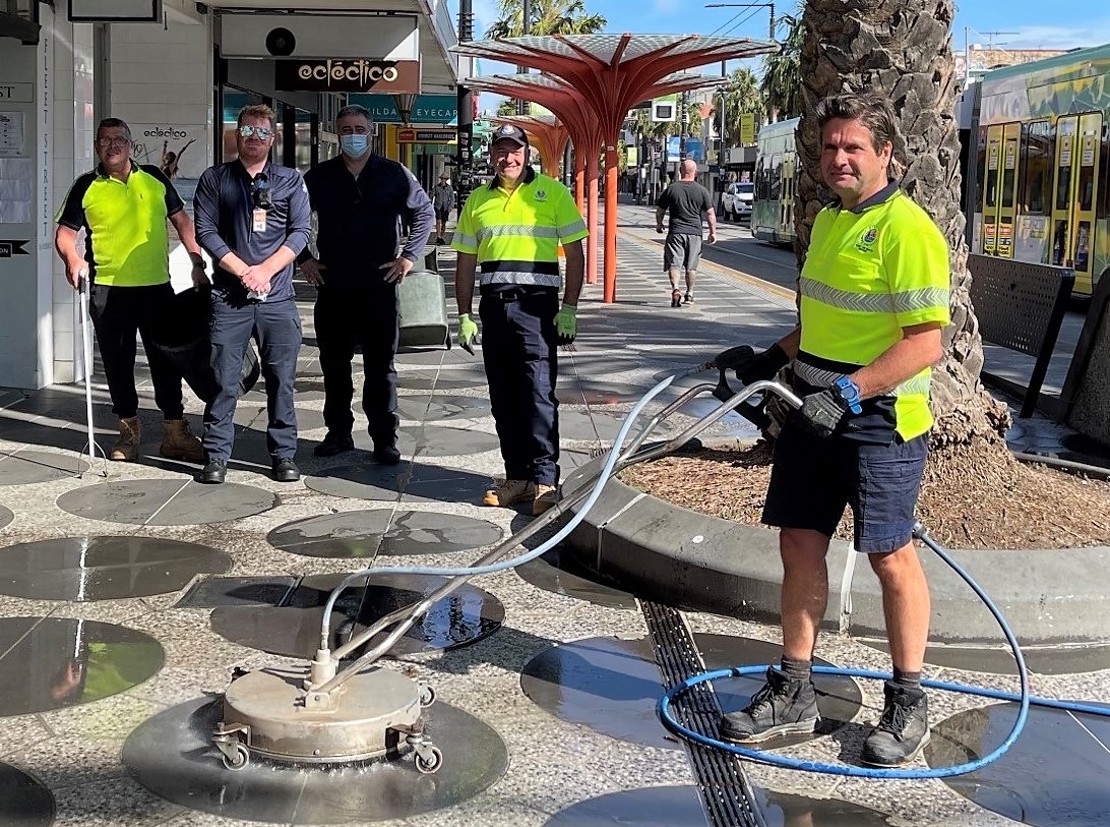 This is the first in an occasional series looking at a day in the life of Council Officers undertaking a range of services for our community.
Divercity went on patrol with City Amenity Officers Richard and Darren. Tasked with keeping Port Phillip clean and safe for residents and visitors, they have learnt to expect the unexpected as they make their rounds each day.
It's 7 am and while Port Phillip is starting to stir, Richard and Darren's shift is already underway.
As their Local Laws ute heads to Acland Street, they are scanning streets and car parks to see if they need to call Council's Rapid Response Crew (RRC) to undertake quick clean-ups.
The visual checks also have a strong human element – Richard and Darren are familiar with the stories of several people experiencing homelessness and always offer to arrange help if it is needed.
As they swing through an empty St Kilda car park, they speak warmly about a rough sleeper they got to know there "who was the nicest guy".  Now in housing, they hope he is rebuilding his life and won't return to the streets.
At St Kilda's Peanut Farm Reserve, dog owners are putting pooches through their paces while several early risers are working out with a personal trainer. Despite the warm weather, there's no need this morning for Richard and Darren to wake up illegal campers by rapping on their car and van windows.
The street, already swept by an early cleaning crew, is clear except for a small pile of rubbish on the road. Turning the ute around,  Richard and Darren spot a woman who appears disorientated and is throwing rubbish around. When she doesn't respond to a concerned "are you alright love" and walks off, they call police to request a welfare check. The police soon arrive and drive off to find her.
Darren, who recently worked in Council's animal management section, darts off to talk to the owner of a dog trotting leash-free in an on-leash zone. Local laws officers have noticed rising incidents of bad dog (and owner) behaviour at parks and on the streets since the COVID-19 pandemic. "Even if dogs are allowed to be off-leash, they need to be under effective control but a lot of people choose to ignore this," Darren says.
"Iso pups" bought for companionship which haven't received training and large dogs barking from boredom in apartments are adding to the "paw" behaviour. Every shift, Richard and Darren will patrol a park and report breaches to animal management for follow up.
On their way to Fitzroy Street, Richard and Darren are trading wisecracks. "We like to have a joke with each other but this stops the moment we leave the car," Richard says.
They check on three rough sleepers, who always move off for the day when they wake up. A woman who has made a tidy shelter nearby has told Richard she will be going into permanent accommodation the next day.
Suddenly they see a man waving to them on Acland Street. It's Mark, who was doing it tough when they first met. Now employed and thriving, Mark still enjoys a quick word with the duo. "We just got chatting one day, they helped me pick up my self-esteem just by talking to me. They do good work and really make a difference."
The RRC is high pressure cleaning Acland Street when Richard and Darren catch up with them. They move down the street together as the RRC picks up rubbish by hand. While any personal items left behind by rough sleepers are tagged and kept for collection, rubbish is removed as part of the thorough street cleaning, aimed at keeping streets and footpaths clear and safe for pedestrians. People  experiencing homelessness are not moved on by local laws officers. They are only asked to step away temporarily until the daily street cleaning is over.
Traders opening their shops or having a delicious breakfast outside nod hello as Richard and Darren pass by. "They're good guys and understand our role," Richard remarks before stopping for a quick chat.
As he walks down Acland Street, Richard receives a call from a case worker who is concerned that a client hasn't come in to receive her medication. He is promising to look out for her when something catches his eye. The RRC has spotted a heavy shop awning swaying precariously after almost breaking off  its brackets. Richard helps keep it steady while the RRC use a tool to wind it back up.
The shop is taped off to protect pedestrians and  the RRC will keep bollards outside until the owner can be contacted to arrange repairs. "There's no job too big or small for the RRC, they just get on with it," Richard says, before accompanying them to St Kilda Library in Carlisle Street after receiving a report that rubbish and clothing has been left out the front.
In Carlisle Street, Richard spots the girl he was asked to look out for and calls the case worker. When Richard arrives at the library and sees the mess, he realises it is hers. How does he know? "I recognise the pink slippers." It's impossible to feel unaffected when he adds he usually knows who has been sleeping rough by what they leave behind. "I can tell from things like how they fold their blankets".
Back to Fitzroy Street and Richard and Darren continue their patrol on foot while the RRC pressure cleans the street. There's a syringe pick-up in a nearby laneway and a mattress is tossed from a nature strip into the RRC truck.
When returning to the ute, a man Richard has spoken to before pulls him aside to say his support worker was supposed to meet him to sort out accommodation but hasn't turned up. Richard calls an outreach worker at another organisation who promises to arrange to have someone there in 10 minutes. The man's relief is palpable as he thanks Richard for his help. "I just needed someone to care," he says.
Darren gets a call from animal management asking if he can scan for a microchip on a dead cat handed in by a member of the public after being hit by a car. The cat is being kept in a special freezer which is sadly housing several other unidentified animals.
Darren runs the scanner thoroughly over the feline and is relieved when a microchip is detected. "I always want to try and provide some closure for the family," he says. Unfortunately, some of the cats are feral and have never had loving homes.
The pair swing by the St Kilda foreshore to check in with their local laws counterparts on beach patrol. It's past lunch-time and there is a family-friendly feel to the busy beach.
A trader has reported a beach-goer drinking from a glass bottle so Local Laws beach buggy driver Wayne stops to remind him of the permanent glass ban. A distinctive sight on the beach, the buggy easily cruises along the sand and up dunes. Council's annual summer management program is underway and the buggy is also rolled out to assist police patrols.
With their shift close to ending, Richard and Darren return to the St Kilda Town Hall to finish off paperwork. They say today has been relatively quiet.
Reflecting on their shift, it feels as if communication is as valuable as a regular visible presence on the streets and the extensive local knowledge they bring to the job.
"We will always ask if someone needs assistance. Sometime people will say they don't but then you have another chat and they start opening up a little," Richard says.
"It's all about engaging with people."
By the end of the shift …
Police had performed a welfare check on the woman Darren and Richard were concerned about
The case worker found the girl and was able to check that she was safe and well
An outreach worker met with the man desperate to sort out accommodation
The cat's microchip registration details were checked but weren't current so the owner was unable to be contacted.