Divercity magazine
Local business
COVID-19
Your community
Parklets continue to support local business
Published 11 March 2021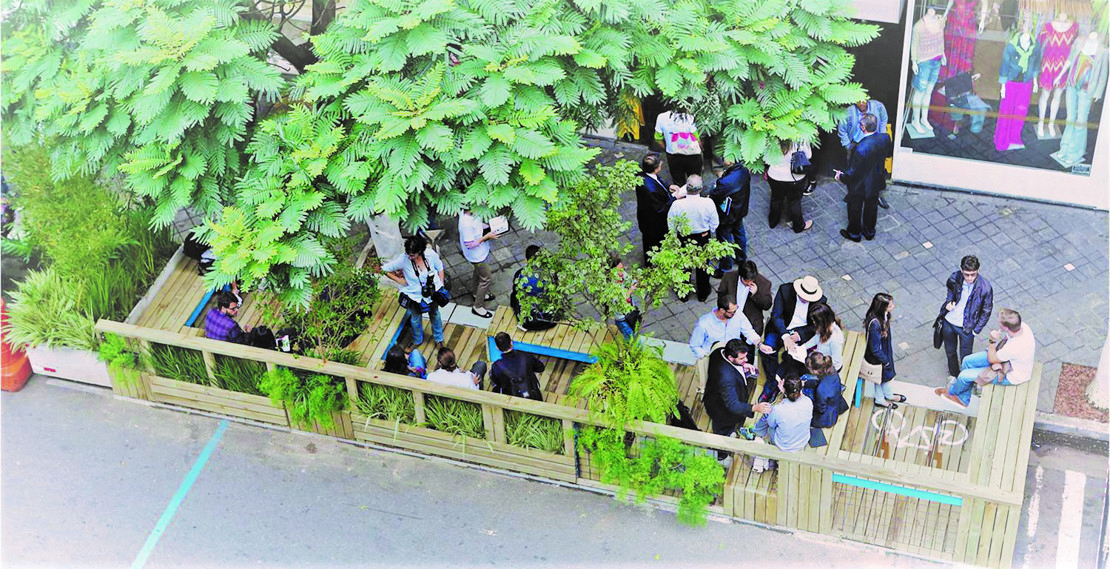 If you've been out and about in our City these past few months, it's likely that you've seen our business parklets – you may even have dined or had coffee at one. We recently announced that this program will be extended until at least the end of June. Here we look at its positive impact.
Business parklets involve the temporary repurposing of parking bays outside businesses to increase footpath trading while offering patrons a COVID-safe environment to enjoy a meal. They also provide opportunities for hospitality traders to employ new staff.
As part of Live Love Local, 64 hospitality traders have installed business parklets on roads to assist with their post-lockdown recovery efforts.
We're incredibly proud of the contribution the parklet program has made to our hospitality traders with 64 per cent of them saying they've been able to retain staff due to the parklets and 71.5 per cent being able to engage new staff.
Keeping hospitality flourishing is vital for all businesses in our neighbourhoods as busy cafes and restaurants have flow on effects of trade to other retailers.
Many members of our community have enjoyed utilising the spaces for their catch ups with friends and family and we are happy to announce that this program will be extended until at least end-June with a further extension to December possible.
This extension allows Council to continue supporting traders while providing additional time to progress with developing the criteria for a longer-term program.
This is a great result for our traders and community. We hope you continue to enjoy the parklets (and the amazing hospitality our City has to offer) into the cooler months.
The little game that could
Another initiative that provided both support for traders and local fun for the community was our old-school Spotto game, which gave participants the chance to win a prize pack valued at $1,000 simply by exploring Port Phillip and supporting our local stores.
The prize packs included $100 gift vouchers from 90 businesses from across the City providing a cost benefit of around $10,000 in total for traders.
The competition also required participants to spend at least $10 in local businesses. With 1,007 entries and participants spending on average $43, Spotto contributed more than $43,000 to our local economy.
Spotto also provided a sense of town pride when considering local icons, connection to neighbourhoods as well as nostalgia for parents and guardians playing the game with children.
"Just wanted to give some great feedback about Spotto. My five-year-old played it in Albert Park yesterday and it was such a great activity – she would pop into cafés and ask the traders if they had seen any of the items, and they loved getting involved with her! It felt like such a great way to connect traders with the community" - Port Phillip Resident
Here are some other Live Love Local initiatives that have been supporting our City's recovery.
Open for business directory
We've built a local business directory so you can find out which restaurants, cafes and other businesses are open for business in your neighbourhood. We encourage ordering directly from businesses rather than using food delivery apps or services. By calling directly, the full cost you pay goes straight to the local venue.
Stay and Play
Take advantage of Port Phillip's Stay and Play offers including some of our city's best hotels, restaurants, attractions and shopping experiences. Enter the draw to win a Port Phillip getaway before 30 April 2021.
Explore Port Phillip
Visit our Explore Port Phillip Facebook page for general information and tips on travelling around the City of Port Phillip. We're always showing love for our local traders on this page!
Hidden Gems tour
Download a free app offering fun interactive self-guided trails, where you can discover South Melbourne's unique vibe, amazing history, its artisans and creators, and its colourful local characters. Collect virtual gems and enter the Hidden Gems Competition to win weekly prizes until the end of April 2021.
Community parklets
Community parklets have turned parking bays into a place where you can safely gather to meet friends, eat lunch, enjoy a coffee, read a book or play with your family.
Play Streets
A Play Street involves the temporary closure of a street, reimagining the street as family-friendly public space, encouraging connection and play through safe, inclusive and accessible programming. Visit a Play Street as they debut this month.