Divercity magazine
Council services
Sustainability
Waste and recycling
Our recycling is improving thanks to FOGO
Published 16 March 2023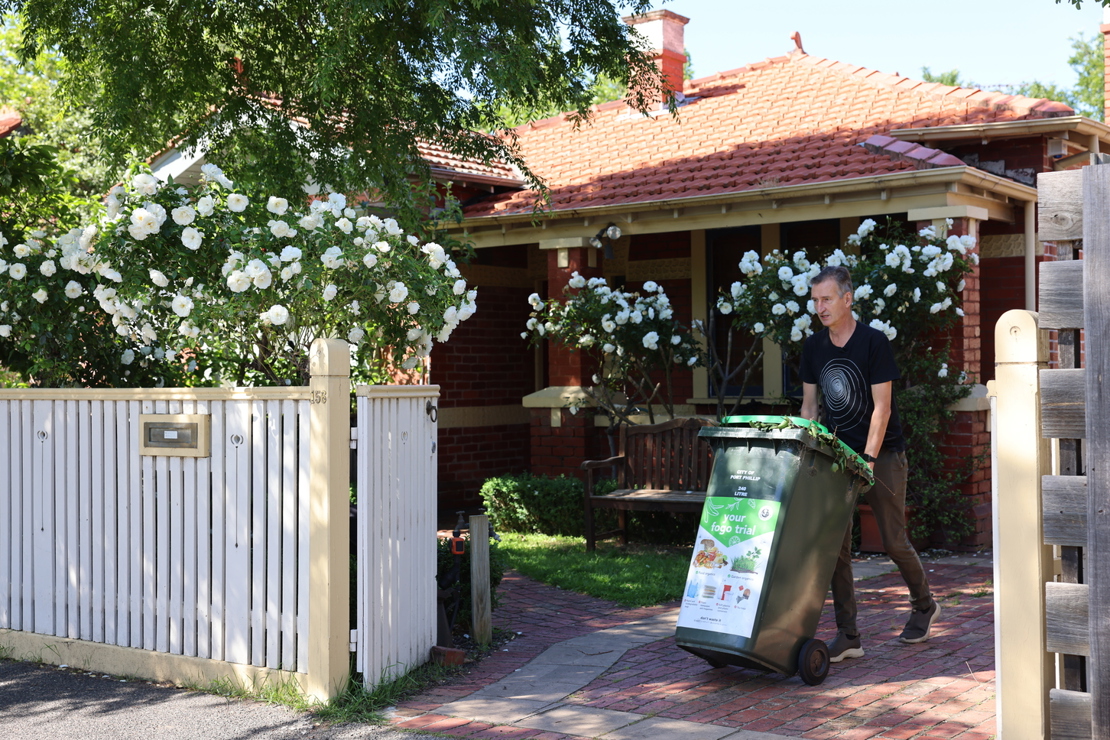 Food and garden organics (FOGO) recycling bins have been rolled out across Port Phillip recently and you might be wondering, why should we recycle? And is it making a difference?
By recycling our FOGO materials, we are taking advantage of one of the greatest opportunities to reduce our carbon emissions. When we send our lawn clippings, fruit and vegetables, and other FOGO waste to landfill, it breaks down and produces methane, a harmful greenhouse gas that contributes to climate change.
In Port Phillip, we recognise FOGO materials as a valuable resource and are converting them into compost that we use on land throughout Victoria.
Your recycling is already having a positive impact. Within just a few months of rolling out our new FOGO services we have increased our diversion from landfill to 39.5 per cent (February 2023), up from 31.7 per cent in November last year.
We have also increased the amount of FOGO material we divert from landfill, with 192.6 tonnes being recycled in February, compared to 22.5 tonnes last November.
Not only is our community getting better at recycling, but Australia's recycling as a whole is improving. The latest National Waste Report provides a snapshot of Australia's waste generation and management, along with how much waste is recycled and who is responsible for it.
Here are some key findings from the National Waste Report:
Australia's recycling rate has increased by 57 per cent over the last 15 years, with 63 per cent of Australia's waste recovered and used again.
Victoria and New South Wales are tied for the third best resource recovery rate at 67 per cent, following South Australia (80 per cent) and Australian Capital Territory (69 per cent).
There was a striking increase of about 35 per cent in the recycling of kerbside organics in comparison to 2018-2019 data. This is mostly due to the roll out of new kerbside FOGO bins.
However, as our population grows so does the total quantity of waste we are generating.
When comparing our waste generation with other countries Australia is just behind the USA as generating one of the highest amounts of waste per capita.
We're very good at recycling certain types of materials like metals (87 per cent recycled), but we're not great at recycling plastics (only 13 per cent recycled).
Around 14 per cent of what we're putting in our recycling bins can't be recycled and is classified as 'contamination'.
This report highlights the need for all Australians to reduce the amount of waste they produce, focus on reusing materials, and learn about what can and can't be recycled.
If you have any questions about our new FOGO recycling services please find more information on our website: Dispose of your Food and Garden Organics (FOGO) - City of Port Phillip or contact ASSIST on 03 9209 6777.
Thank you for doing your part to create a more sustainable future for Port Phillip.