Divercity magazine
Sustainability
New mural is tops
Published 13 July 2021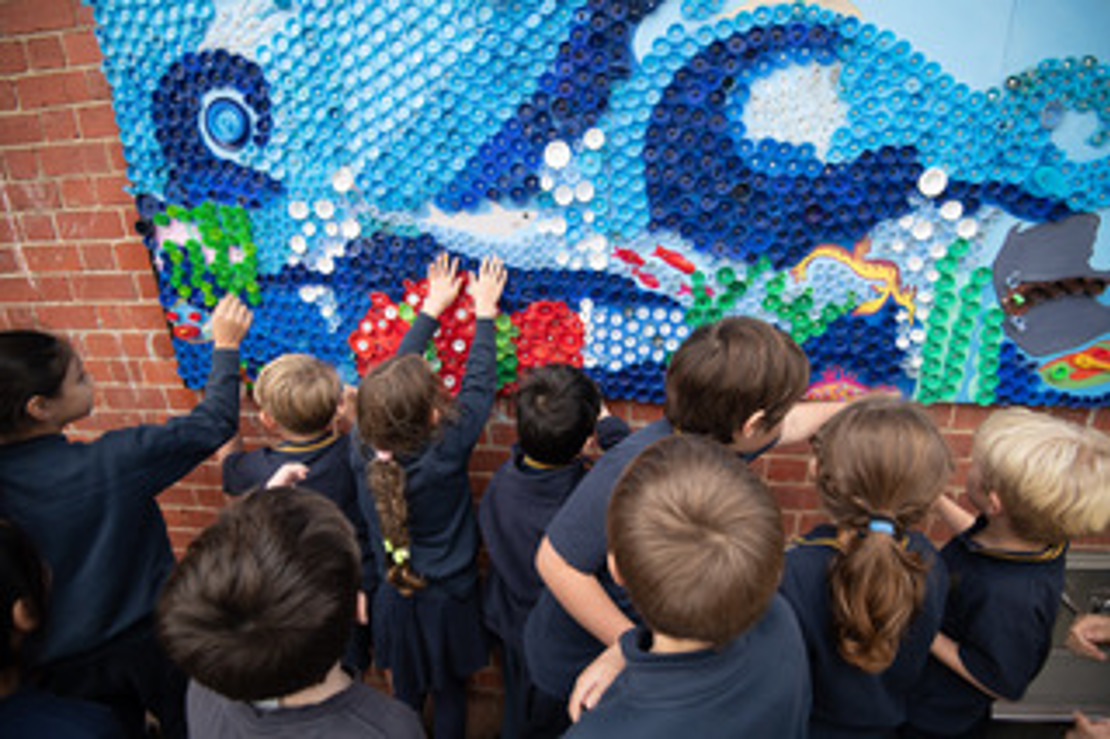 Elwood Ploggers have joined forces with Elwood Primary School to create a sea-themed mural from bottle tops foraged from Elwood Beach.
Did you know that bottle tops are one of the most common single-use plastic waste items in the world, often ending up in landfill because they're too small to be collected during the recycling sorting project? 
The Elwood Plogging Group do!
The Ploggers, as they are affectionately known, have been meeting for weekly beach cleans since April 2018, and, upon noticing the significant number of bottle tops collected, wondered if there was a way to turn them into something positive for the local community.
Enter Elwood Primary School and artist Carolyn Cardinet, who together created the 'Under the Sea' mural that adorns an outside wall at the school.
Carolyn used sketches and drawings from the Elwood Primary students as inspiration for the design of the 'Under the Bay' mural, which includes sea life such as stingrays, crabs, dolphins and penguins as well as local Elwood icons such as Point Ormond Hill and Café.
Throughout the collaboration, important conversations were had by the teachers and students about sustainability and re-purposing waste materials such as single-use plastics, as well as the connection between the impact of plastic pollution and the mural.
The completed mural includes more 2,500 plastic bottle tops as well as other single-use plastic waste items, such as soy sauce fish and toothbrushes. If you look closely, you might even spot an old dummy, bike reflectors and some LEGO pieces!
Council assisted in funding the project, and the kids and families of Elwood Primary School helped collect additional bottle tops and plastic waste.
Get the latest news straight to your inbox
This article is featured in the July edition of Divercity.
Divercity brings you the latest City news, what's on, service updates and local exclusives, such as discounts and freebies.
To keep up to date with news about your City and Council, sign up now.