New motorised beach wheelchair trial
Published 9 February 2023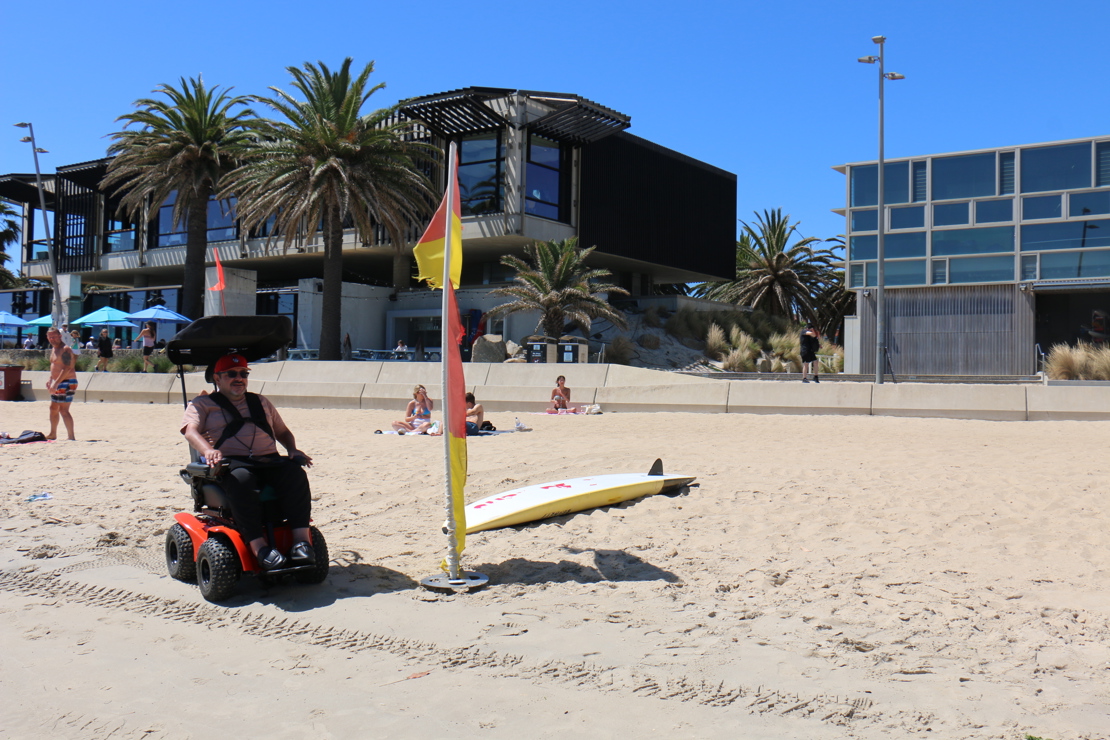 An eight-week motorised beach wheelchair trial is rolling into St Kilda Beach
For the next eight weeks an all-new motorised beach wheelchair will be available for hire from the St Kilda Life Saving Club. 
The chair will be on-site from Saturday 11 February, and the trial itself will assist us to review the feasibility of making the chair a permanent fixture. 
During the trial users will be asked to provide optional feedback about their experience and suggest improvement for the service. 
Use of the motorised beach wheelchair is free and last for 1.5 hours. Booking in advance is essential and can only be made during lifesaving patrol times over weekends. 
Trial participant Jason (pictured) enjoyed being able to get out onto the sand at St Kilda Beach: 
"I haven't really wanted to go to the beach for such a long time, it's amazing to be able to go on the sand," he said.  
We believe that everyone should be able to enjoy our beautiful foreshore and we're committed to providing accessibility supports, such as the motorised beach wheelchair, to make that a reality for all community members. 
The motorised function of the wheelchair, combined with the ability for user control means this service is designed to be relatively self-sufficient. However, it is required you are accompanied by a carer at all times - and it never hurts to bring a friend or two to the beach with you.
The motorised wheelchair is just one of many programs we run to make our beaches more accessible, we also have an accessible beach wheelchair that can enter the water, beach matting and more.  
You can make a booking for the motorised beach wheelchair and find out more about some of our other accessible services via our accessible beaches webpage.