Divercity magazine
Council services
Sustainability
Waste and recycling
Grab your free FOGO kitchen caddy
Published 9 February 2023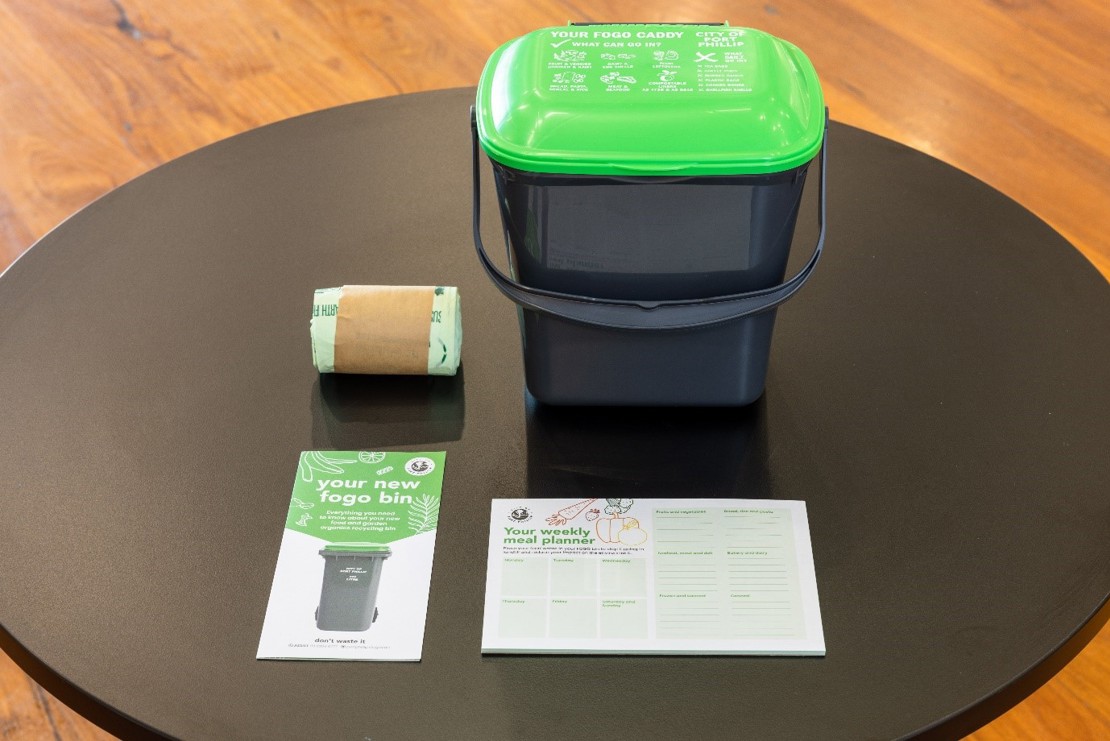 We are handing out free kitchen caddies and rolls of compostable caddy liners to help you recycle your food waste.
Caddies, compostable caddy liners, and meal planners can be collected from the St Kilda Town Hall and any of our five library branches: Albert Park, Emerald Hill, Middle Park, Port Melbourne and St Kilda. You can also come and visit us at our market stall at St Kilda Festival on Sunday 19 February to grab a caddy and roll of liners.
When you collect your caddy, you're welcome to pick up a free meal planner magnet to put on your fridge at home. Planning your meals and creating a shopping list is a great way to ensure you only buy the food you will use, helping to save money and reduce food waste.
Empty the contents of your 7L caddy into your kerbside FOGO bin or in our communal food organic recycling hubs to recycle your food waste into nutrient rich soil conditioner and compost.
If you have accessibility requirements that prevent you from collecting a kitchen caddy, please contact ASSIST on 03 9209 6777 to discuss delivery options.
If you would like to purchase additional caddy liners, you must ensure you use lime green certified compostable liners and look for the AS 4736 or AS5810 logos.
These can be purchased from most supermarkets and hardware stores or from online retailers such as Biogone, MyEcoBag and Compost-A-Pak.
Get the latest news straight to your inbox
This article will feature in the February edition of Divercity. Divercity brings you the latest City news, what's on, service updates and local exclusives, such as discounts and freebies. To keep up to date with news about your City and Council, sign up now.