Divercity magazine
Council services
Sustainability
Waste and recycling
FOGO: Your new food and garden organics recycling service
Published 14 February 2023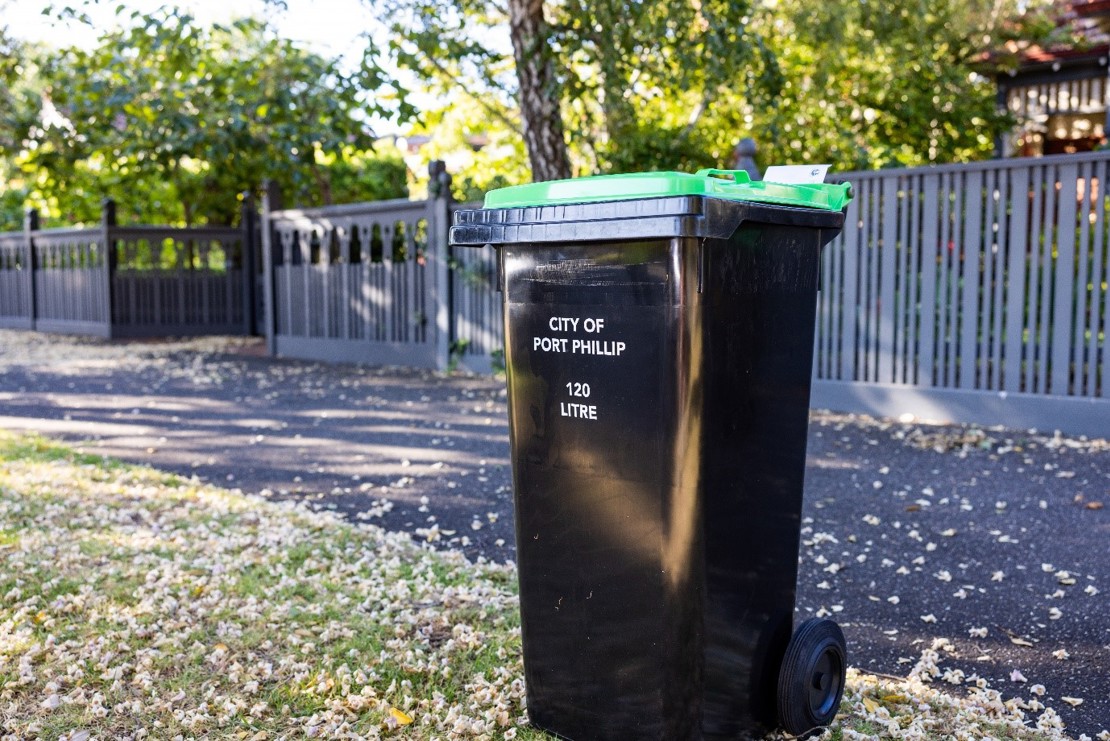 Across two weeks in January, approximately 14,600 kerbside food and garden organics (FOGO) recycling bins were delivered to eligible houses and townhouses across the City of Port Phillip.
Our new kerbside FOGO service commenced on 23 January allowing Port Phillip residents in houses and townhouses to conveniently recycle their FOGO materials, making a serious impact on the quantity of waste we're sending to landfill.
Food and garden waste makes up around 46 per cent of the waste our households send to landfill, and produces methane, a greenhouse gas that is approximately 21 times more potent than carbon dioxide.
Recycling our FOGO materials is an important step in helping our environment. FOGO materials collected through our new recycling service are turned into nutrient rich soil conditioner which is used to rehabilitate land throughout Victoria.  
Apartments and MUDs
Apartment buildings did not receive a FOGO bin in the recent rollout due to increased complexity in introducing kerbside FOGO bins to apartments and unit blocks. Some of these challenges include Council trucks being unable to access bin rooms and higher contamination rates in apartments and unit blocks.
When recycling FOGO materials, it is essential that we keep contamination rates below 5 per cent, therefore education on what can and can't go in your FOGO bin is vital. In apartments and unit blocks this can prove challenging as residents are more transient, and with multiple people sharing a bin, it is harder to direct education to community members that may need it.
Despite this complexity, we are determined to give all residents an opportunity to recycle their food waste. Therefore, mid-year we will start rolling out kerbside FOGO bins to eligible apartments and unit blocks.   
Communal food organics recycling
In addition to introducing kerbside FOGO bins, we will also be expanding our communal food organics recycling hubs, with the goal of providing a food organics recycling hub within 300 metres of properties that were ineligible for a kerbside FOGO bin.
Port Phillip's combination of kerbside and communal recycling services reflects our unique housing demographic, with approximately 90 per cent of our dwellings being medium or high density. This is compared to 33 per cent for Greater Melbourne. Many of our standalone houses also have limited outdoor space for an additional kerbside bin. This poses a challenge when introducing new waste and recycling streams as additional kerbside bins are not suitable for every household. We know that almost every household will generate food waste, and we are dedicated to helping our community recycle these valuable materials.
FAQs
If you live in a house or townhouse and didn't receive a kerbside FOGO bin but would like one, you can register a request through My Port Phillip. Please note there is an associated cost to the kerbside service, and due to a high number of FOGO related requests and queries, there is an extended wait time for a response. Thank you for your patience and understanding. 
To help you start recycling your food waste we are handing out free kitchen caddies and caddy liners at our libraries and the St Kilda Town Hall. For more information, read: Grab your free FOGO kitchen caddy.
For more FOGO FAQs, visit our Dispose of your Food and Garden Organics page.
If you're interested in learning about our future plans for FOGO and glass recycling, read our Don't Waste It! Waste Management Strategy 2022-25.
Thank you for recycling your FOGO materials and creating a more sustainable future for our City.
Get the latest news straight to your inbox
This article will feature in the February edition of Divercity. Divercity brings you the latest City news, what's on, service updates and local exclusives, such as discounts and freebies. To keep up to date with news about your City and Council, sign up now.