Councils tackle graffiti with Urban Canvas
Published 31 January 2022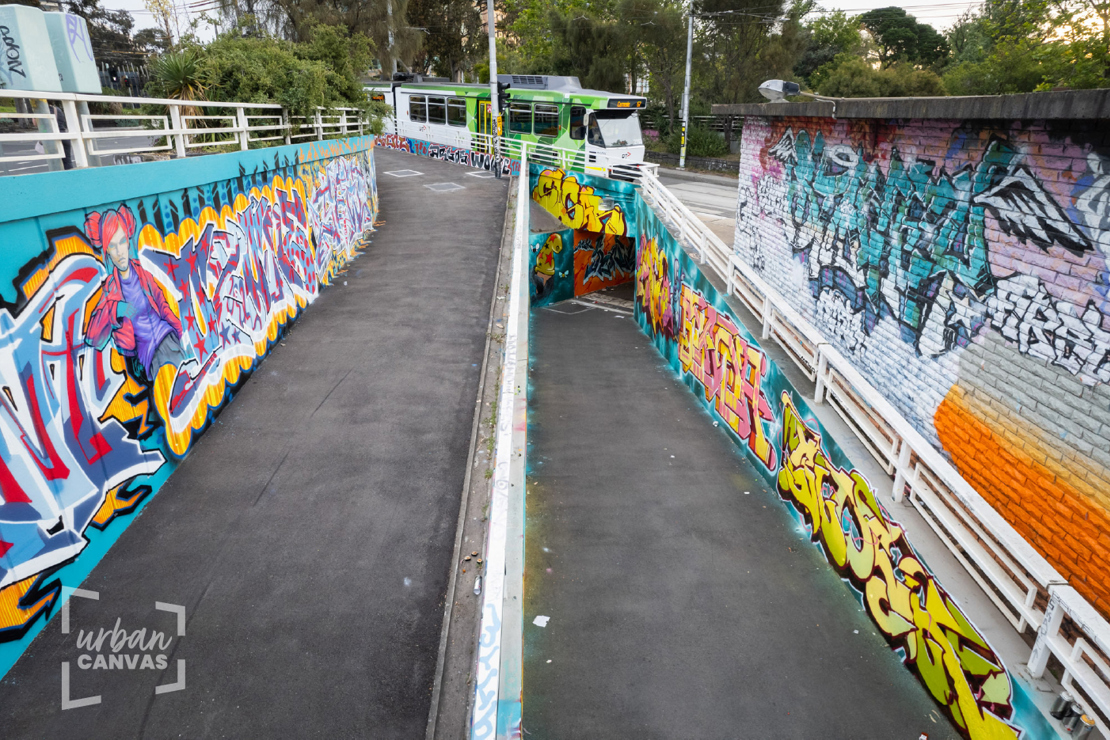 Six Melbourne inner-city councils are taking a collaborative approach in the ongoing fight against graffiti.
Urban Canvas, a project part of the Inner South Metropolitan Mayors Forum (ISMMF), will see new art created and graffiti vandalism removed in the Cities of Bayside, Boroondara, Glen Eira, Kingston, Port Phillip and Stonnington on Victorian Government and corporate third-party assets from post boxes, tram stops and substations.

Urban Canvas is funded by the Department of Treasury and Finance's Community Support Fund with $1.98 million split equally between the six participating councils over two years to help remove graffiti, or prevent graffiti vandalism through installation of unique street art.

The first phase of the project took place in November and saw 75 artists come together to create murals along the St Kilda Junction tram stop, reinvigorating a series of subway walls and road sidings owned by Yarra Trams and VicRoads.

Usually, councils can't remove graffiti or touch assets owned by the Victorian Government and third parties, such as utilities suppliers and transport providers.

Under the Urban Canvas project, however, government agencies and companies including Yarra Trams, Telstra, VicRoads, Australia Post, Citipower, South East Water and VicTrack have given the councils permission to remove graffiti and commission art for their assets.

As well as providing a proactive approach to tackling unsightly graffiti in public spaces, the project provides employment opportunities for many Melbourne artists.

New street art makes these spaces feel safer and more connected through a shared appreciation of what makes each city unique.

Port Phillip Council completed 4493 graffiti removal requests in the 2020-2021 financial year, which included the removal of 24,810 square metres of graffiti across the City. These figures include three months where limited removals could take place due to lockdown restrictions.

Now with the ability to address this vandalism to third-party assets, the Urban Canvas project allows councils to add another string to the bow in the ongoing battle of eliminating graffiti from our cities.
QUOTES

To be attributed to City of Bayside Mayor Alex del Porto:
Bayside is working to rid our beautiful municipality of unsightly graffiti whilst bringing colour and life to our neighbourhoods.

To be attributed to City of Boroondara Mayor Jane Addis:
Graffiti is an amenity issue for Council and our community. It is an eyesore and requires precious time and resources to remove. Projects such as this provide a positive creative outlet for local artists and improve the amenity of the area, creating a space that our whole community can enjoy.

To be attributed to City of Glen Eira Mayor Margaret Esakoff:
The Urban Canvas project will provide a fantastic opportunity for local artists to not only showcase their artistic talents but help reduce graffiti tagging and beautify our streetscapes.

To be attributed to City of Kingston Mayor Steve Staikos:
Kingston has already installed a number of much-loved art murals around our community to deter graffiti and we are keen to do more by working in partnership with other councils to keep our neighbourhoods looking their very best.

To be attributed to City of Port Phillip Mayor Marcus Pearl:
St Kilda Junction is often referred to as the Gateway to St Kilda. We're excited to see new art in our City in this team effort to deter graffiti and welcome visitors.

To be attributed to City of Stonnington Mayor Jami Klisaris:
We are pleased to receive funding through the Victorian Government's Community Support Fund, which we will be putting to good use fighting graffiti vandalism and improving the quality of Stonnington's neighbourhoods.