Consultation is now closed for Council Plan and Budget 2023/24
Published 21 April 2023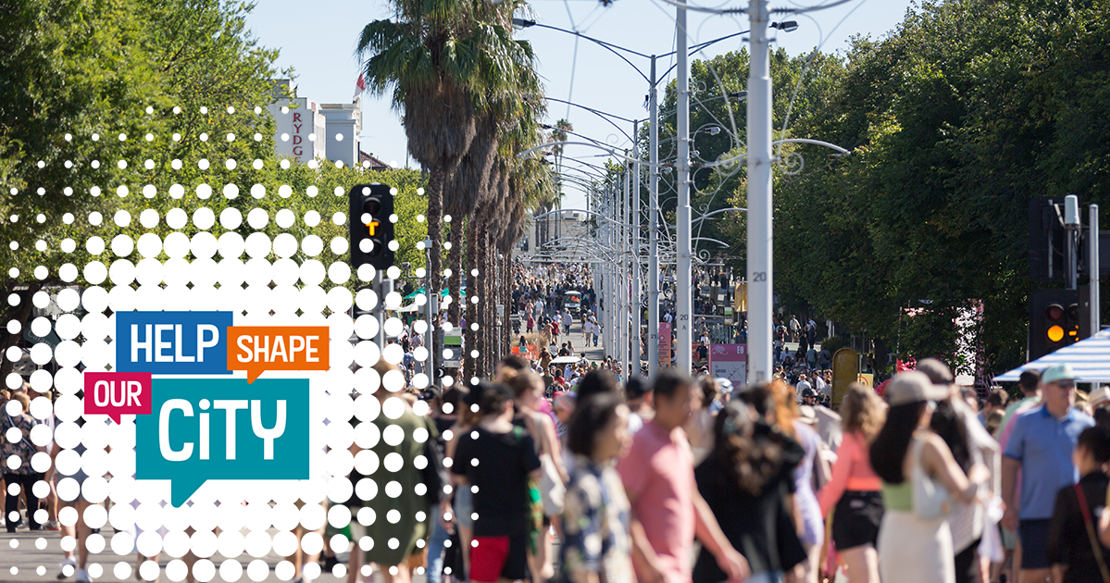 Consultation for our draft Council Plan and Budget 2023/24 is now open. We are seeking your feedback to ensure any changes to the Council Plan and Budget are done in collaboration with our community.
Consultation for the draft Council Plan and Budget is now closed. Council will hear community feedback on 7 June and will be meeting to adopt the Council Plan and Budget at a Special Council Meeting on 20 June 
The Council Plan is our strategic roadmap that guides everything we do for our community. It provides a strong foundation for the continuing rollout of projects, services and initiatives that go to the heart of the health and wellbeing of our diverse community. 
Every year we undertake a process of community engagement to make sure our community has their say on the plans for our City for the year ahead.  
The items we're particularly seeking your feedback on for this year's Council Plan and Budget are:  
an increase to general rates of 2.8 per cent

 

changes to our waste charges

 

changes to the Cultural Development Fund

changes to performance indicators

proposed new and adjusted initiatives in our draft Council Plan.

 
Changes to your rates 

 
This year, the Victorian Government set the rates cap at 3.5 per cent. This means Council cannot raise rates beyond the 3.5 per cent cap. In recognition of cost-of-living pressures facing our community, we are proposing a rates increase of 2.8 per cent which is lower than the rates cap and well under the expected 4.5 per cent inflation rate.  
While various options were considered, this proposal provides ongoing financial relief to our residents. This is because any future rate rise will be based off the lower 2.8 per cent figure rather than the full 3.5 per cent rates cap. 
This is the first time we have proposed an increase below the rates cap since the Victorian Government introduced rates capping in 2016/17. The financial impact to our 2023/24 draft Budget of adopting a lower rate rise below the cap is approximately $900,000. Over the next 10 years, the accumulated impact of lower rates will mean we collect $11 million less in rates from our residents. Rather than funding this shortfall through service cuts, we will put less into our reserve fund as a buffer for known and unexpected challenges over the next decade. 
We were able to provide a balanced and responsible Budget through extra income from revenue streams, including parking and investments.
Changes to waste charges

 
What we've done 

 
This is Year Three of the Council Plan 2021-31 and includes the 2023/24 Budget.  
Last year, we asked for your feedback on our new Rating Strategy and Waste Strategy, and introduced a Waste Charge to separate out waste costs from general rates.  
We introduced a new Rating Strategy with the aim of establishing a fairer and simpler way to calculate rates. To achieve this, we shifted our rating system so it's based on the total market (sale) value of the land plus buildings and other improvements. We also introduced a new Waste Strategy (Don't Waste It! Waste Management Strategy 2022-25) to ensure we're delivering what our community wants – which is additional waste services, to cover more recycling services. The four waste streams we're rolling out cover general waste, general recycling (paper, metal, plastics), glass, and food organics and garden organics (FOGO).  
Council endorsed the introduction of a $176.20 Waste Charge with a tiered waste charge structure separated out from general rates, to cover additional costs for new services (FOGO and glass recycling) requested by our community and to address the increased costs of delivering current services.  
The charge provides more transparency for ratepayers as it separates the cost of handling their waste out from their general rates. A separate collection charge of $88.10 was applied to households eligible for a kerbside FOGO bin.  
What we're proposing 

 
This year, we're proposing some changes to our waste charges. 
The tiered waste charge we introduced in last year's Council Plan means that property owners who are eligible for a kerbside FOGO bin pay more for the convenience of having the kerbside service than those who are ineligible, who instead have access to communal drop-off services for FOGO.   
With this user-pays model in mind, we're proposing a change to how we administer waste charges in line with our Rating Strategy objectives to provide a fair, equitable, efficient and simple to understand distribution of rates, that can manage the impact of change.  
The cost of waste is increasing due to increases in the state landfill levy and increases in FOGO services. To meet these increasing costs, we propose to increase our default waste charge from $176.20 to $198.20. For homes using the kerbside FOGO collection service, this cost increase will be offset by a decrease in the cost of their FOGO bin.   
Single-unit dwellings

 
The first piece of significant work on the implementation of the Don't Waste It! strategy was the rollout of the kerbside FOGO service for single unit dwelling (for example a house or townhouse) where we delivered approximately 14,600 kerbside FOGO bins from January this year.  
In last year's budget, owners of eligible single-unit dwellings were charged an additional $88.10 for the convenience of kerbside FOGO collection. To ensure that we provide fair outcomes that reflect the different levels of service and cost between single-unit and multi-unit dwellings, we propose to keep this charge, but reduce it to $66.00. This would bring the total cost of waste charges for eligible single-unit dwellings to $264.20, which is an overall reduction of $0.10 in your waste charges.

Multi-unit dwellings

 
This year we're also continuing our FOGO rollout with services to be delivered to multi-unit dwellings (for example units or apartments) starting in mid-2023.  
Unlike those living in single-unit dwellings, who have the convenience of a kerbside collection, multi-unit dwellings will be provided with a shared common service which is more like a communal service. We're proposing to fund this service from the default waste charge. This means we would not introduce a separate charge for FOGO collection for multi-unit dwellings.  
This demonstrates our commitment to fairness and reflects the different levels of convenience and cost between single-unit and multi-unit dwellings.  

Residential car park spaces and storage areas

 
Previously, some apartment owners were charged a fee for their apartment, as well as an additional amount for their apartment's residential car park space or storage area. We are proposing to no longer charge this fee for car park spaces or storage areas that are tied to a dwelling. 
Commercial

car park spaces and storage areas

 
We're proposing to remove the waste charge for commercial car park spaces* or storage areas, and instead charge a small amount for incidental waste that may be generated through commercial activities.  
* This does not apply to commercial car park operators who will incur the default waste charge. 
Changes to the Cultural Development Fund

 
Last year, Council requested that a cost review be undertaken to identify options for ongoing cost reductions.  
The review was set up to provide evidence-based cost reduction options for Council to consider in the 2023/24 budget. 
As part of this process, we are considering changes to our Cultural Development Fund (CDF) grants program. This program supports artists, arts and cultural organisations, and creative community projects in our City.  
Currently, funding of up to $12,000 is provided for each successful project. We awarded $187,000 for a total of 18 successful projects in 2022. 
As part of our review, we identified an opportunity to reduce CDF funding from 1 July 2023 by $87,000, to a total budget of $100,000. 
Updates to Council's performance indicators

 
Council indicators provide a snapshot of our annual performance. They are reviewed annually to ensure targets are realistic and that descriptions are clear. We have included additional indicators to further bolster our performance overview.  
For 2023/24, the following indicators have been proposed:  
Percentage of investment

in fossil-free institution

s 

 

Street cleaning audit compliance 

 

Number of Council Plan initiatives that are on track 

 

Percentage of audit actions completed on time 

 

Proportion of projects on track. 

 
We're also proposing to remove the indicator Council decisions made at meetings open to the public as it has been shown to result in similar outcomes to the indicator Council decisions made at meetings closed to the public.   
Initiatives added to the draft Council Plan 

 
We are seeking your feedback on six new initiatives we're proposing be added to the Council Plan: 
Commercial Precincts Footpath Upgrades

(part of the Footpath Renewal Program) – This is a $500,000 a year program of renewals and upgrades of footpaths in and around high street areas, to support trading and pedestrian foot traffic. The program's first year will include a consultation, design, and minor beautification budget of $100,000.

 

St Kilda Strategic Plan Implementation

– $380,000 to be allocated over four years to implement short-term recommendations of the plan, with a focus on actions that relate to strategic planning. $100,000 has been included in 2023/24.

 

Footpath Trading Guidelines Review

– $80,000 to review and update Council's Footpath Trading Guidelines (2017) in line with the endorsement of the Outdoor Trading (dining) Policy in November 2022 and the current development of a new Local Law 2023.

 

Elwood Foreshore Facilities Development Stage two and three

– new stages added to ensure future funding is allocated to the works identified in the masterplan.

 

South Melbourne Market Project Connect

– A $17 million investment over 10 years to futureproof the Market, ensuring it continues to provide a safe, enjoyable and accessible experience for the community. The program will connect and align with the renewal and compliance program of works already underway at the Market. This project will focus on improving public space around the Market, reduce congestion, improve visitor experience and provide increased connection with the precinct.

 

Conservation of South African War Memorial

– $268,000 for the conservation treatment of the memorial in Alfred Square St Kilda, which is protected under the Heritage Victoria Act 2017. $92,000 has been included in 2023/24 for investigation and design.

 
There are a range of new or adjusted initiatives that have been added to the draft Council Plan. You can read more about these initiatives here. 
Let us know what you think about our draft Council Plan and Budget. Please visit our Have Your Say page to share your feedback before 18 May: Council Plan and Budget | Have Your Say Port Phillip. 
All community feedback will be collated and presented to Council for consideration at the 7 June 2023 Council Meeting before the adoption of the updated Council Plan and Budget on 20 June 2023. Your feedback will help to inform Council's decision making.