Construction begins on infrastructure projects
Published 5 November 2021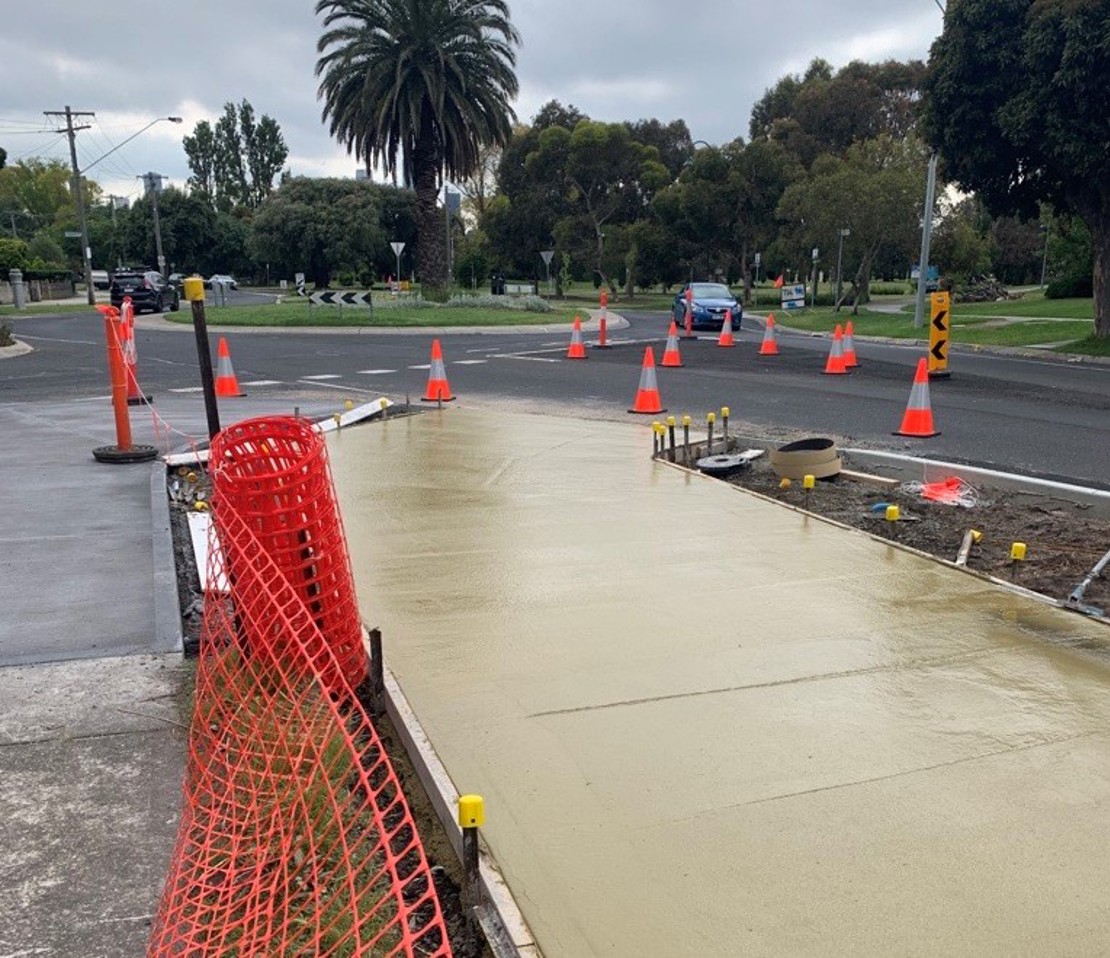 Over the last month construction began on more infrastructure projects fully or partially funded by an Australian Government program in response to the COVID-19 pandemic.
More than $3.4 million has been awarded across eight projects under the Australian Government's Local Roads and Community Infrastructure (LRCI) Program to help us deliver improved community infrastructure and to support local jobs.
Construction has begun on a number of these of these projects:
Wattie Watson Oval at Elwood Park
The upgrade to the oval will provide a durable high-quality playing surface on the oval into the future.
These works are part of an upgrade project supported by Sport and Recreation Victoria with additional funding through the Australian Government's LRCI program.
The project forms part of the ongoing program of playing surface renewals at Port Phillip sports grounds to meet standards required for current and future participation levels. The project must be undertaken in the summer months where there is lower rainfall and temperatures are ideal for turf supply and establishment. During reconstruction, Wattie Watson Oval will be closed for six months.
Point Ormond Reserve
We're building a new playground and improving the park for a more vibrant and accessible public space at Point Ormond Reserve. In recent years, the condition of the playground equipment has steadily declined and recently we needed to remove the playground due to its poor condition and ongoing safety issues.
Our concept plan for a new playground responds to this special location, catering to all ages and abilities and will meet the current Australian Standards.
As part of these works, we have also considered improvements to the picnic and barbecue areas and pathways to and around the reserve. This includes the pathway to the Beacon Hill Lookout. Key improvements at Point Ormond Reserve will include new trees and garden bed, new paths between the playground and the existing Point Ormond lookout path and Bay Trail, improvements to access around Point Ormond Lookout and new barbecue areas including a new picnic shelter.
Garden City bike corridor connection upgrade
The Garden City Bike Corridor has been designed to improve connections for bike riders by linking Garden City Reserve to the Sandridge and Bay Trail shared path networks. The project is designed to improve access for bike riders and make Beacon Road and Swallow Street safer for all users.
The corridor is an important bike route for recreational and local bike trips, and is a key action in our Move, Connect, Live Integrated Transport Strategy, providing a link between popular destinations in the Port Melbourne area.
Landscape Improvements at the McGregor and Patterson Street intersection, Middle Park 
We're improving the landscape and reducing stormwater pollutants at this intersection. Raingardens help clean stormwater by trapping litter and filtering pollutants before they enter our drains, and eventually the bay. By removing unnecessary asphalt surfaces and replacing them with landscaped space, the project also supports other Council objectives including greening and cooling the City. We will begin construction on similar intersection projects in the coming month at Beaconsfield and Nimmo Street, Middle Park and at Cecil and Napier Street, South Melbourne.
Look out for construction commencing for other upcoming infrastructure projects supported by the LRCI program over the coming months including a new outdoor seating area at South Melbourne Market and a new play space at St Kilda foreshore.