Divercity magazine
Arts
LGBTQI+
Celebrating the pride of Port Phillip
Published 14 January 2022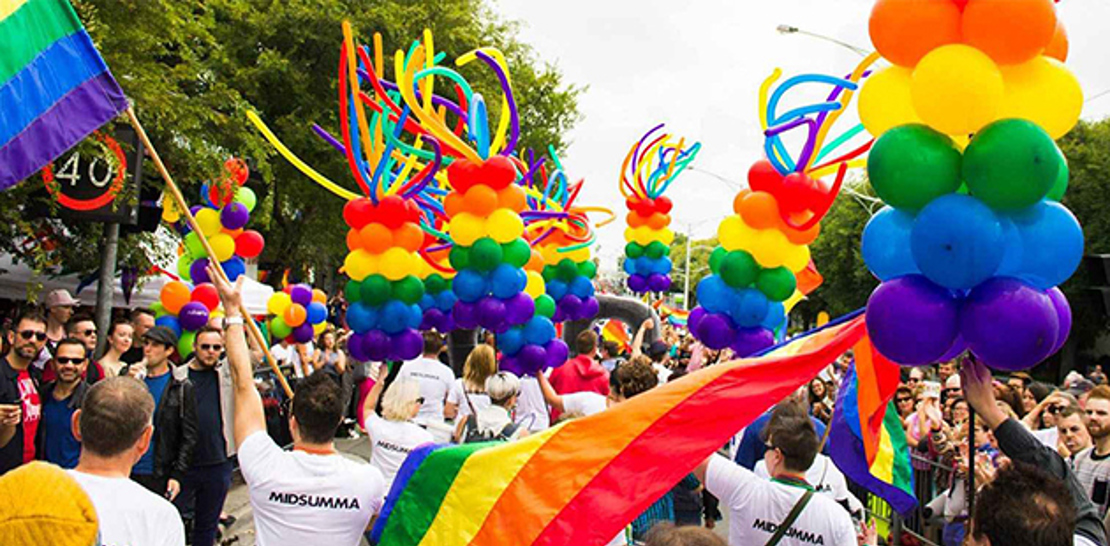 Celebrate loud and proud this summer at the Midsumma Festival and Pride March, where a diverse mix of LGBTIQA+ artists, performers, communities and audiences unite for three weeks of queer cultural celebrations.
Our Council is proud to once again be a major partner of the Midsumma Festival, committing $90,000 towards the Midsumma Pride March and presenting Midsumma programming in the City of Port Phillip.
The Midsumma Festival features a program of about 200 events from 23 January to 13 February, with 30 of those hosted in Port Phillip in spaces such as Gasworks Arts Park, Theatre Works, Temperance Hall and the jewel in St Kilda's rainbow crown, the Victorian Pride Centre.
Port Phillip's three town halls will be flying the Rainbow flag as symbols of pride and inclusion for Midsumma.
The annual Flag Raising Ceremony will take place at St Kilda Town Hall at 4 PM on 1 February and we hope that you can join Council staff and members of our community, along with a special guest speaker, to raise the flags, celebrate LGBTIQA+ people and raise awareness for the important work still needed to combat discrimination.
Supporters are also welcome to cheer marchers on at the 27th annual Midsumma Pride March on 6 February when Fitzroy Street comes alive in a colourful celebration of diversity.
More than 8,000 marchers are participating this year. Dykes on Bikes will precede the marching contingent, with the March itself led by Boonwurrung Elders and a Rainbow Aboriginal Float as well as the Premier of Victoria, Minister for Equality and the Creative Industries and Commissioner for Gender and Sexuality.
At the conclusion, attendees can head to Catani Gardens for celebrations and entertainment including DJs and live performances. The event is free with no ticket required.
To ensure our City continues to be a safe, welcoming and inclusive place where people of all backgrounds and ages can thrive, we have appointed our very own LGBTIQA+ Advisory Committee, a first for our Council.
Committee members include Victorian Pride Centre CEO Justine Dalla Riva, Dianne Toulson of Theatre Works, St Kilda trader David Demmer, Ange Barry of Joy FM, Rebeckah Loveday of Sacred Heart Mission and Port Phillip community members Shaun Williams, Coco Dywer, Liam McAuliffe, James Seow, Binti Mohamud and Felicity McIntosh.
Members of the LGBTIQA+ Advisory Committee will provide advice to Council on issues impacting LGBTIQA+ residents, visitors, businesses and the wider community to help steer the development and implementation of an LGBTIQA+ Action Plan.
This Action Plan aims to improve the health and wellbeing of the LGBTIQA+ community, to reduce stigma and discrimination, and to continue to build an inclusive and socially cohesive Port Phillip.
Some of the Midsumma Festival events in Port Phillip include:

Freedom is Mine photography exhibition of LGBTIQA+ Asylum Seekers – Victorian Pride Centre, 19 January to 15 February
Progression audio-visual installation – Gasworks Arts Park, 24 January to 13 February
St Kilda Queer History Walk – Victorian Pride Centre, 29 & 30 January
The Art Hunter Presents, Twilight Salon – Alex Theatre, 29 January to 5 February
LGBTIQA+ Flag Raising Ceremony – St Kilda Town Hall front lawn, 1 February, 4 PM – 5 PM
Midsumma Pride March – Fitzroy Street and Catani Gardens, 6 February, 11 AM – 2.15 PM
A Gay On The Lawn Pride March afterparty – St Kilda Sports Club, 6 February, 1 PM – 9.30 PM
Queer Pasifika: The Rebirth of the Cool – Victorian Pride Centre, 10 February
For further information on all events, visit the Midsumma Festival website.
Get the latest news straight to your inbox
This article is featured in the January edition of Divercity. Divercity brings you the latest City news, what's on, service updates and local exclusives, such as discounts and freebies. To keep up to date with news about your City and Council, sign up now.