Celebrate National Recycling Week with these top tips
Published 29 October 2021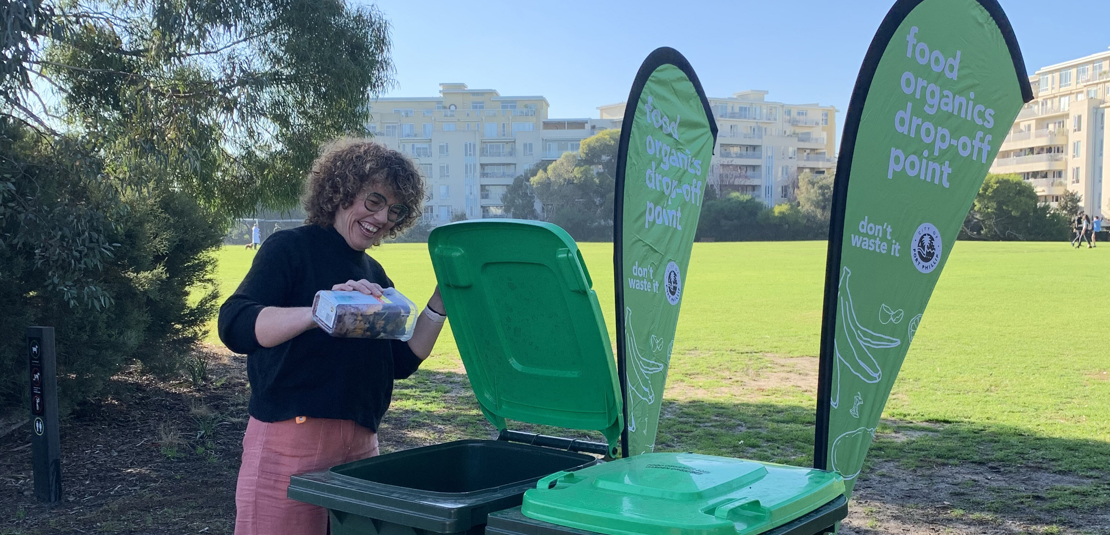 It's National Recycling Week's 25th anniversary and we're sharing 25 tips to help you on your mission to recycle right!
National Recycling Week is fast approaching from Monday 8 November to Sunday 14 November. It's a timely reminder of the many ways we can all change our recycling habits to maximise items we can reuse, increase recycling opportunities and reduce what goes to landfill.
Established by Planet Ark in 1996, National Recycling Week's theme this year encourages you to: Celebrate National Recycling Week YOUR way!
To celebrate both the impressive 25th birthday milestone and this year's theme, we've compiled 25 recycling tips that will help inform and inspire you to recycle right, including a few tips from the Waste and Sustainability teams at City of Port Phillip.
Tips to help you recycle right in Port Phillip:
Your yellow recycling bin
1. Our top tip is don't bag your recycling. Plastic bags aren't recyclable through your household bin and bagged recyclables can't be opened at the sorting facility due to health and safety risks for the sorting line operators. This means the contents of the bag are also diverted to landfill.
2. Soft plastics such as lightweight shopping grocery bags, freezer bags and other plastic food packaging can't be recycled through your yellow recycling bin. We encourage you to save these and drop them off at the REDcycle bin at your local supermarket.
3. Paper and cardboard, bottles and jars, plastic containers, steel and aluminium cans and foil (scrunched into a ball) can all be recycled. Check our detailed list of what can and can't go in your yellow recycling bin.
4. What about lids? The lids from glass bottles and jars are recyclable, you can put them in your recycling bin loose. The lids from plastic bottles and tubs are made from different materials and aren't recyclable through your yellow recycling bin.
5. "My son is nominated as the recycling police in the house. His job is to check the recycling bin (in the kitchen) once a day to ensure there are no contaminants. He acts like a little detective to find the culprit who put the contaminant in the bin and makes them remove the contaminant." – Binita, City of Port Phillip
6. When you're at your local supermarket or grocery store, check the labels on packaging to help you correctly dispose of every part of a product's packaging correctly. Not sure what the numbers one to seven on your products mean? Check our handy list or learn more about how to interpret recycling labels on the Planet Ark website.
7. Recycling right makes a difference. Using your kerbside recycling correctly and sorting effectively is a huge help in ensuring that household materials get recycled right. We've created a poster to help you get your weekly recycling collection right. Download the recycling posterto put in your apartment bin area or share it with other Port Phillip friends, families and neighbours online too.
8. Use your garbage bin to dispose of items you can't reuse, recycle or compost, including broken crockery and ceramics (wrapped in paper), long life cartons, drinking glasses and glass food storage containers.
9. "Parents can get their children involved in sorting rubbish at the source (even before it gets to the household bin). It's fun and encourages learning." – Binita, City of Port Phillip
10. Cooking oil, chemicals or liquids, gas cylinders and syringes don't go in your yellow recycling bin or your garbage bin. Please dispose of these items safely. Check what you can take to the Port Phillip Resource Recovery Centre or call the team via ASSIST on 9209 6777 for advice on how to dispose of these items.
Maximise what you can reuse
11. Best practice tip: It's best to invest in reusable containers, coffee cups, water bottles, and shopping bags to avoid single-use plastics as much as you can.
12. "I use reusable mesh bags for fruit and vegetables rather than 'biodegradable plastic' or paper bags. The plastic and paper bags are still using resources and have to be disposed of at some stage whereas I have had the mesh bags for years." – Renae, City of Port Phillip
13. "I live simply and fully by mending, repairing, reusing, refilling and squeezing every last drop of usage out of the items I'm lucky enough to have. An example of this are my ageing collection of threadbare t-shirts which are worn until they are falling apart, and only then do they achieve the status of household rag or bike cleaner where they are used over and over till they can be used no more." – Brett, City of Port Phillip
14. "Glass jars rarely go in our recycling bin. We keep them to reuse for homemade jam, pickles and relish. We also use them for storing nuts and seeds or liquid leftovers." – Renae, City of Port Phillip.
15. Reuse before you buy: Purchase items at op-shops to avoid new and often heavily packaged products, borrow things from friends, neighbours or family members, and use the library instead of buying books.
16. Recycling at my house is a welcome last resort. But before I lift the yellow lid, I take time to honour the natural limits of life and nature by buying only what I need and using it carefully and completely." – Brett
17. Remember this: The less we purchase, consume and dispose of, the less impact we have. The old saying reduce, reuse, recycle is still as relevant now as it was several decades ago.
Electronics
18. The valuable materials in electronic waste, commonly known as e-waste, are recyclable through dedicated recycling services. Find out where to take your e-waste.
Food and garden organics waste
19. Organic matter diverted to landfill contributes to our greenhouse gas emissions. You can help reduce food and garden wasteat home and in the community.
20. Earlier this year, we introduced a trial of three communal food organic recycling hubs in St Kilda West, Port Melbourne and Albert Park. If you've been using the hubs, let us know your thoughts on the trial by completing the communal food organics survey. 
21. Good news! Since May 2021, we have diverted approximately 28 tonnes of food organics (FO) material from landfill via the communal food organic hubs. This is a fantastic result and we couldn't have done it without the community's contribution. Thank you.
Glass
22. Did you know our communal glass recycling trial has been running for over 18 months? We have seven locations across South Melbourne, Port Melbourne, Albert Park, St Kilda West and St Kilda East. Learn more about our communal glass recycling
23. Why separate glass? Glass can shatter and break up when mixed with other recyclables. Broken glass contaminates other materials like paper, cardboard and plastic, making them harder to recycle.
Hard waste
24. Our hard and green waste collection is a free service for households and apartments to dispose of larger items and green waste that can't go in your bins at home. Before booking your collection, check the guidelines on our website to make sure your items can be picked up.
25. Hard waste recycling tip: Shopping wisely and donating your pre-loved items dramatically reduces your waste-line, saving you time, money and effort in future clean-ups! If your items are still useful and in good condition, try donating or selling them online before you book a collection.
Discover more tips and information about recycling in the City of Port Phillip.
Find out how you, your school and/or work can get involved in National Recycling Week.