Divercity magazine
Older people
Age of Enlightenment
Published 21 April 2023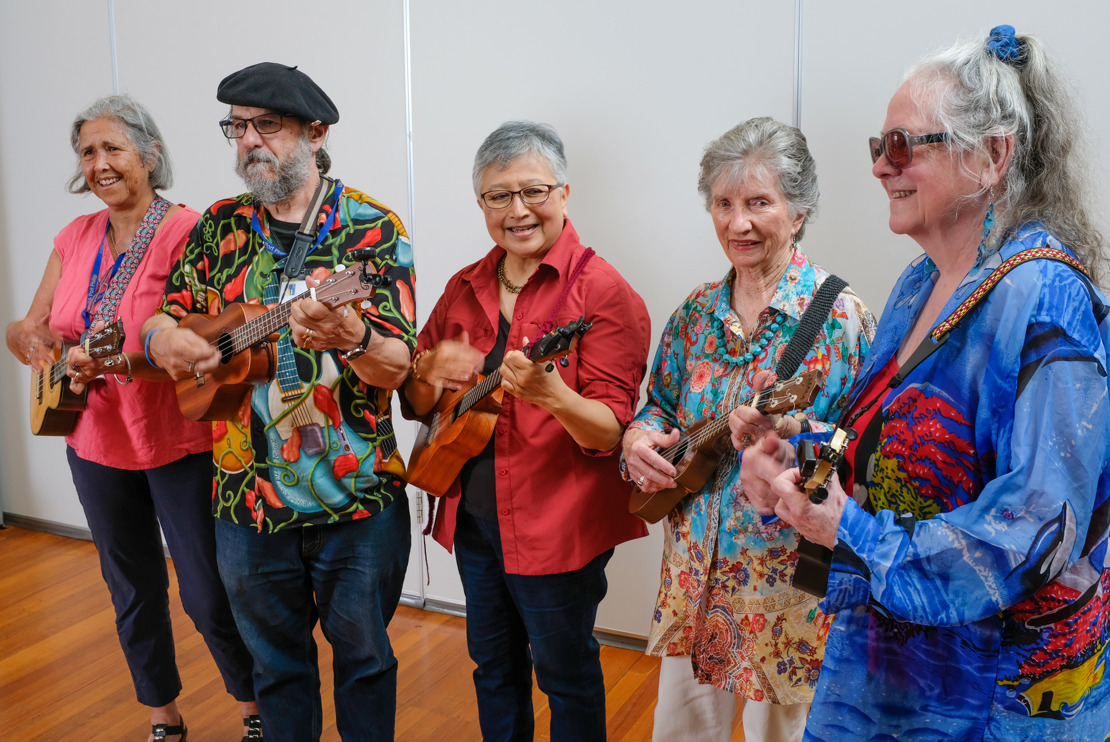 University of the Third Age Port Phillip (U3APP) is celebrating 20 years of providing classes and connection for community members to flex their minds and bodies.
U3A Port Phillip President Sheila Quairney suddenly passed away in April, a few weeks after giving this interview. With the permission of her partner, Divercity is running this story as a tribute to her tireless efforts as a volunteer for organisations including U3A and her highly valued role as a member of our Council's Older Persons Advisory Committee. Our deepest sympathies go to Sheila's partner Brian, her family and her many friends.
U3APP's 750 retired and semi-retired members have unlimited access to about 80 free courses and activities every week after paying a $40 annual membership. The tutors and those members who keep the organisation running are all passionate volunteers who value the lifelong learning journey offered by their organisation.
Art, music, science, dancing, languages, health, exercise, current affairs, literature and well-being are just some of the courses which can be attended in person and via Zoom. There are also regular online seminars on thought-provoking topics which non-members can also dip into. The seminar on 15 April, Myanmar: Democracy in a complicated country, featured speaker Chris Lamb, a former Australian Ambassador to Myanmar.
President Sheila Quairney signed up as a member in 2019 after moving to Port Phillip from the UK.
"I wanted activities to keep me busy so I joined the choir." Before long, Sheila was a committee member, started teaching relaxation classes and is now enjoying her second year as President.
"Exercise classes are hugely popular as people want to stay fit and healthy as they age," she said.
"We really appreciate Council's support in providing access to their venues which helps us keep the membership fee affordable. With over 130 volunteers, including our tutors, U3A really is 'by members, for members'."
The Betty Day Community Centre in St Kilda has recently been added to the venues, which Sheila hopes will draw more members from St Kilda and Elwood. U3A's Albert Park office at the Mary Kehoe Community Centre, Middle Park Library and the South Melbourne Community Centre are among the other venues.
Sheila said U3A was a social lifeline for many members, particularly those who felt isolated, during COVID-19 lockdowns
"We moved virtually all classes online very successfully – disproving the stereotype that older people are not able to cope with technology. We have a great IT team."
About a third of all classes can still be accessed online, including cryptic crosswords and Friday Film.
"The social aspect is very important. The classes provide opportunities to meet up in person and get to know each other, as do events like our monthly Happy Hour at a local pub," she said.
U3A Port Phillip is always keen to sign up tutors, members and volunteers. You don't need to be an experienced teacher, just have an enthusiasm for a topic or pastime.
There are many ways volunteers can lend a hand, including managing the course timetable, maintaining the website, sending the newsletter, organising catering or joining the committee of management.
Now is the perfect time to join with a 20th anniversary celebration being held on 17 May.
For more information, visit the U3A Port Phillip website at www.u3app.org.au, email u3app@u3app.org.au or call the office on 9696 3495 between 9.30 am to 3.30 pm on weekdays.