Social and affordable housing
Wellington Street Common Ground Project
Published 5 May 2022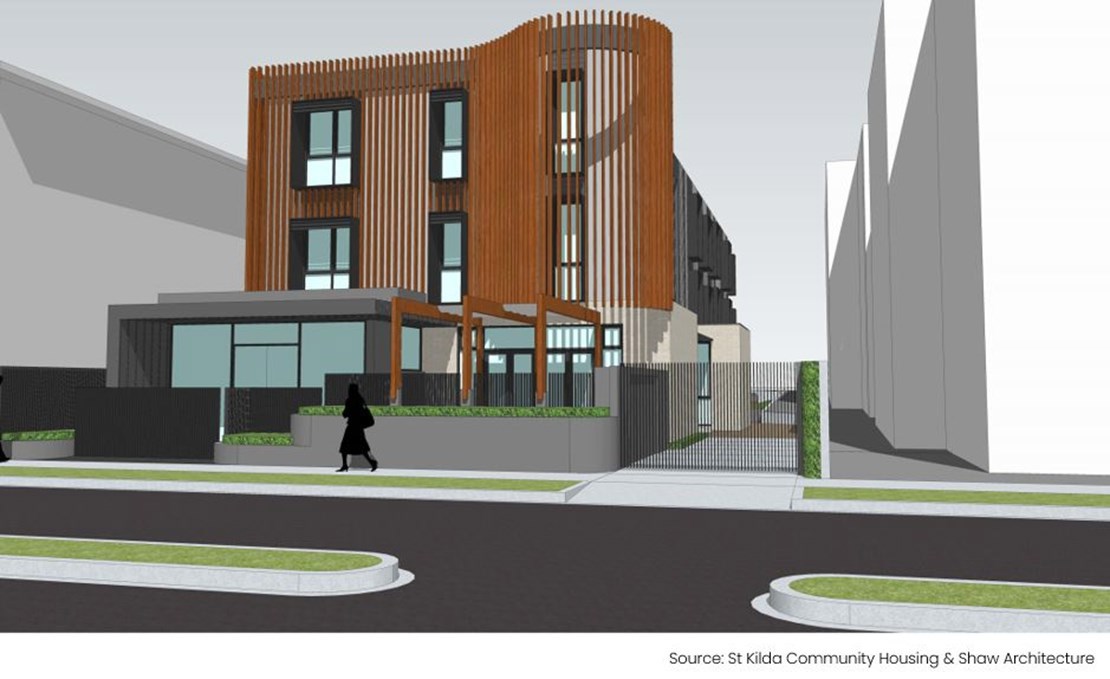 A common ground approach to homelessness in St Kilda.
ADVOCACY UPDATE
Council is proud to progress the Wellington Street Common Ground Project in partnership with the Victorian Government and St Kilda Community Housing.
The Victorian Government has recently announced it will contribute $3.7M in capital funding to the project under the Big Housing Build, as well as future operational subsidy funding.
The new project will use the evidence-based Housing First approach, which is designed to address the multiple and complex needs of people who have been sleeping rough.
Council is making a $4 million capital contribution and transferring an adjoining laneway to help St Kilda Community Housing deliver this project on the Government owned site.   
The project, which is anticipated to be completed in 2025, will deliver 26 self-contained units and on-site support services using a Common Ground model, that supports residents with complex needs who were previously sleeping rough to maintain their housing and reconnect with their community.
More information here: https://www.premier.vic.gov.au/shelter-and-support-homeless-melbourne
Council Report: https://www.portphillip.vic.gov.au/media/q5qkynrc/wellington-street-common-ground-project.pdf
BACKGROUND
What is the ask?
Council is requesting the Victorian Government to commit to providing an operating funding subsidy for up to 10 years to deliver the service model for the 28 Wellington Street, St Kilda, Common Ground facility, to ensure it effectively supports persons who were sleeping rough, to maintain their housing.
What is the issue this initiative will address?
Causes of homelessness are many and varied. Family violence, a critical shortage of affordable housing, unemployment, mental illness, family breakdown and drug and alcohol abuse all contribute to the level of homelessness in Australia. Homelessness is not a choice and it can happen to anyone.
The Australian Homelessness Monitor reports that homelessness has increased the most in capital cities, and that the rate of increases have been highest in the inner-city area.
Port Phillip has the fourth-highest number of homeless citizens in Victoria. The 2016 Census reported that the five LGAs with the highest levels of overall homelessness were Dandenong (2,103), Melbourne (1,721), Brimbank (1,467), Port Phillip (1,127) and Tullamarine (849). 
Reflecting the prevalence of rough sleeping in inner-city areas, there are currently 97 persons who are experiencing homelessness in Port Phillip, 21 of whom are rough sleeping, with most of the remainder in temporary or emergency housing.
What is Council proposing?
Council is committed to seeing the development of a Common Ground in Wellington Street, St Kilda, to address the pressing shortage of supported residential accommodation for persons who are rough sleeping. On 2 September 2020, Council resolved to contribute $4 million in capital funding and the adjoining surplus lane valued at $400,000 (2020 value), to facilitate the delivery of this project by St Kilda Community Housing.
In October 2021, the Victorian Government committed the balance of capital funding required ($3.8 million) under the Big Housing Build.
The project will deliver a 26-unit facility to be operating by mid-2023, through redevelopment of an existing social housing site. On-site consulting rooms for medical and support services, a concierge service, and communal and staff facilities are part of the plan.
The Common Ground housing model, already proven successful in Australia and overseas, features on-site support and services for those who have experienced long-term homelessness, for needs ranging from health and allied health issues, to counselling, social skills, and income and employment support. Delivery of the project will help address the level of rough sleeping in the City, which is on the rise post-COVID.
This project will support Council's role in a coordinated service delivery response to rough sleeping.  This includes allocation of dwellings to persons on the Port Phillip Zero program's 'By-Name List', which identifies individuals who are rough sleeping, their circumstances, and their support needs and support agency.
A Victorian Government operating funding subsidy is required to ensure that the project's Common Ground model is viable, so that residents are supported to maintain their housing and, if possible, progress to more independent social housing.
How does this initiative align with the Council Plan and Victorian Government priorities?
Council
Council Plan 2021-31: Inclusive Port Phillip - a City that is a place for all members of our community, where people feel supported and comfortable being themselves and expressing their identities.
We will advocate for the Victorian Government, community housing organisations, and the philanthropic and private development sectors to facilitate new affordable and social housing within the municipality, including the renewal of existing social housing sites to achieve the outcomes identified in our In Our Backyard Strategy.
These projects are consistent with outcomes from the reset (2018-2020) of our In Our Backyard - Growing Affordable Housing in Port Phillip 2015 – 2025 strategy:  
Addressing the priority need for supported housing for persons who are experiencing rough sleeping, and the Council resolution in September 2020 to contribute the $4 million and surplus lane to support delivery by St Kilda Community Housing, which provides an effective policy response to homelessness and rough sleeping need.
Victorian Government
The project supports the goals and outcomes outlined under the Big Housing Build - Social Housing Growth Fund-Round 4: Redevelopment of Director of Housing sites.
A permanent facility with suitable operating funding offers a solution post the Victorian Government's current Homelessness to a Home program that provides accommodation for the next 18 months only.
The project also supports a proposed focus area, 'Pathways', for Homes Victoria's 10 Year Strategy for Social and Affordable Housing (outlined in Homes Victoria's February 2021 discussion paper):
addressing the difficulty supporting persons experiencing homelessness due to the lack of social and affordable housing
providing the opportunity to better enable people with complex needs to access holistic packages of housing and support
ensuring that specialised housing and accommodation responses are available for those whose needs can't be met through mainstream housing such as a social housing or private rental.
How does this initiative assist the community recover from COVID-19?
A viable Common Ground project will:
reduce the cost to government of providing health, justice and welfare services
create short-term jobs in the construction industry and long-term jobs in the service sector, such as housing management and property maintenance services
foster a more sustainable and resilient community, by assisting those who are at greatest risk of homelessness
assist people who have been disproportionately impacted by COVID-19,persons who are homeless, and those at greater risk of homelessness, including casual and low-income wage earners and persons who have been unable to work during the pandemic
support local traders and businesses by supporting a market for local businesses.
Cost and current status?
Cost
The operational cost is subject to current negotiations between St Kilda Community Housing and Homes Victoria.
Status
The Wellington Street Common Ground project has achieved the following milestones:
received a Council capital funding commitment ($4.4 million in total contributions) - September 2020
received a Victorian Government commitment for the balance of required capital funding ($3.8 million) - October 2021
received a planning permit from City of Port Phillip – November 2021.